1800's Antique Corset Mannequin Metal Adjustable Small Wasp Waist Dress Form Victorian Manny Vintage Sewing Steam Punk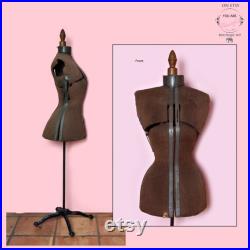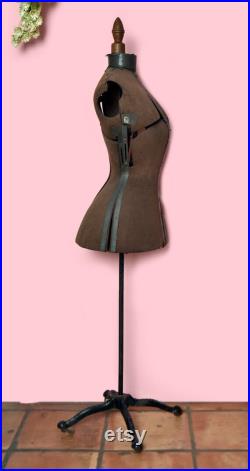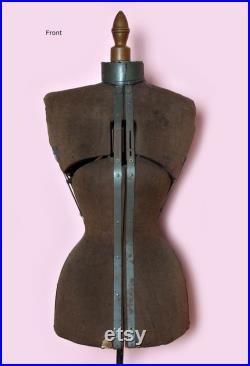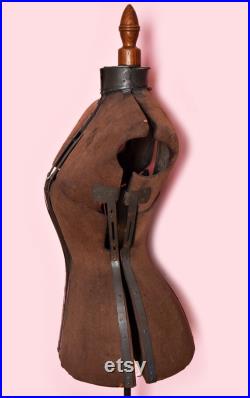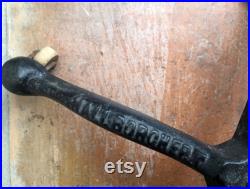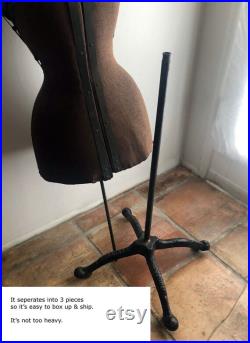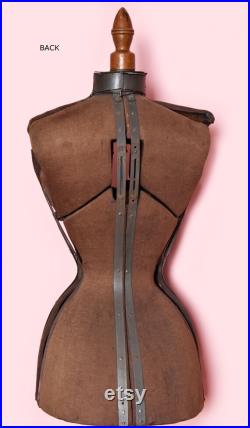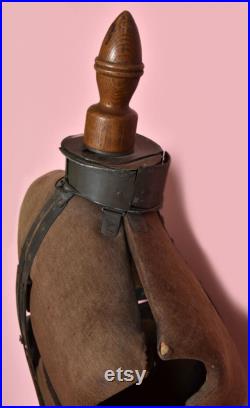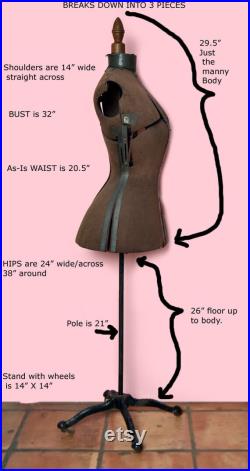 1800's corset dress form. Super rare antique metal & fabric covered corset dress form.
It comes apart into 3 pieces: the base with wheels, a pole that screws into the base & the body which has a smaller pole attached at the bottom that fits into the separate larger pole that screws into the wheel base. The body is adjustable but i have never tried to do that. I do not want to risk breaking it. I do not sew at all, so i have no idea how to actually use this. Under the fabric is some kind of foam or soft material you can put pins in.
That's about all i know. I'll let the photos speak for it. I will wrap it extensively in bubble wrap & padding. I won't barter on the price, thank you.
I have lay-a-way - just ask. I really don't take lightly the description of my items.
I want everyone to be very happy & come back again feel free to contact me with any questions. Condition: excellent for it's age wheels work, it rolls. It has normal expected all over wear & tear & age, a few dings & nicks & dust, etc. It looks like there's metal wire around the neck area, not sure what that's for.
Again i found it like that & never tried to change anything. I've never tried to adjust it either so i can not say if it moves easily or not. Label: i can only make out clearly the word new york on the base, it has another name/word but can't read it. Size: measurements are pretty close/accurate but give or take 1/2 or so - (see photos for more).
Waist: 20" / 20.5" aprox as-is - it moves a bit & is adjustable. Length: 40" - body is 29.5" - stand is 26. Shoulders: 14 across - end to end. I only list fabric size.
Feel free to ask me if you're unsure, i'm happy to help. Compare it to a similar item you have now that fits well. Keep in mind i sell only vintage items & they have had a life before me & will always have at least a little general wear & small flaws. Please know most are not perfect. I always list flaws that are in obvious places or that effect the wearing.
If the small flaws are hidden or not easily seen, many times i do not photograph or mention them. I clean & repair most all items when i can, except furs etc. I never sell anything that smells. Contact me if there are any problems. I'm happy to help.
I have no control over that so please check with your post office. This item is made of metal and fabric.