1970s Revlon Countertop Display Mannequin with Decal Please Read Description Vintage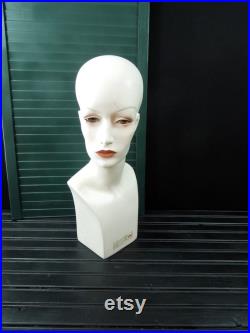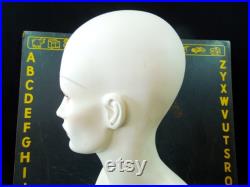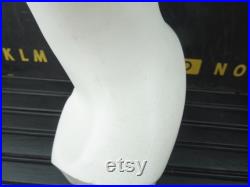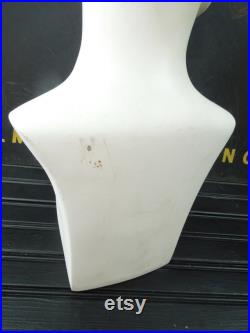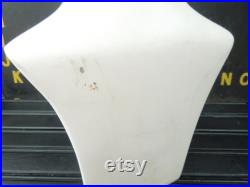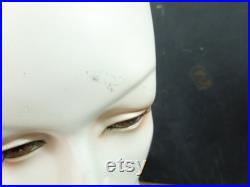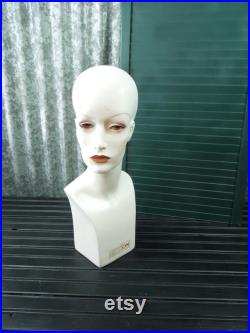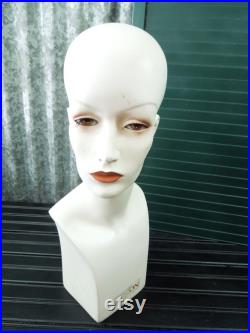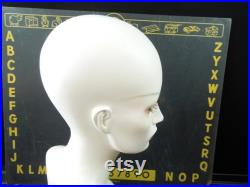 Stunning 1970's revlon display mannequin w/ decal - vintage - please read entire description. Used at makeup counter in drug stores / department stores. There is some of the decal reading revlon still attached on front base of mannequin. The look of their mannequins is distinctive. I have another mannequin head that has lost her decal completely. She is a smaller edition than the one shown here. Her makeup, as you can imagine, is perfectly done. Long curling real looking eyelashes.
Her lipstick and blush give her a sultry and slightly aloof beauty. There are even holes in each earlobes for earrings if you should care to add them. From base to top of her head is 18 3/4" high - 8" at widest (shoulders) - base is 5 1/8" at widest x 5" deep at base. Be sure to take a good look at all of the pictures, they will give you a good idea of condition.
All vintage / antique items will have some wear as the were preowned and used. Keep that in mind when purchasing.
Light wear around holes in earlobes. Some marks including scuffing, dark dings etc. On finish, see pictures for a better look. The partial revlon decal is still attached on front of base, but does have a lot of wear. Otherwise she has the expected wear you would expect from a store mannequin.
Stored in smoke free environment - no unpleasant odor. But, i used this mannequin to display hats and she works very well with a wig or without for that purpose.
She has beautiful light brown hand painted eyes with attached long eyelashes for a very sultry gaze. She has nicely shaded lips that are in an apricot tone of lipstick and very slightly blushed cheeks with the same color palette as her lips. And her ears are made to allow you to use pierced earrings as they have holes that go all the way through her earlobes.
But, be aware that a portion of the hole in the left earlobe is broken and will currently not hold an earring. I believe it may be able to be repaired. I had always thought just to use a pair of faux pearl post earrings and to permanently glue one in the earlobe that is damaged, but i never actually did do this.
Just a suggestion that may work if you want the mannequin to have earrings. She works just fine without them. She could also be used to display a lovely necklace as her neck and décolleté are appropriate for that purpose.
This mannequin is not extremely heavy and is easily moved from place to place. At the front of the base there is a decal present that says revlon. Com i want to see more. Dear customer a few things you should know, .
A happy customer is our goal. Props are not included in the sale, only the item or items described are the item(s) for sale. Vintage - antique means old and possibly used at some time. Almost all vintage will have some wear.
Also vintage items often were made before certain concerns such as lead paint. Any electrical appliance can stop working at any time. Also unless stated electrical wiring is original - use care when using old electrical equipment.
If not vintage the items are for supplies to make art or craft pieces or decoration. If you require a signature confirmation the cost for that would be an additional $3.00. Colors can vary due to light, background or even your monitor. We make no claims as to the continued working or the safety of our vintage items.
We go to great lengths to find interesting, useful and amusing vintage items for our shops. Thank you for shopping our store please enjoy.
Re-use - rejuvenate and re-purpose.