250 copies of Half Scale Dress Form Pattern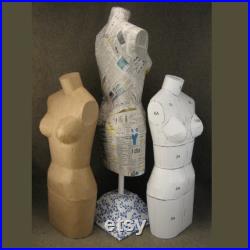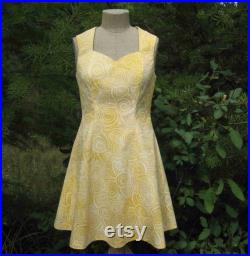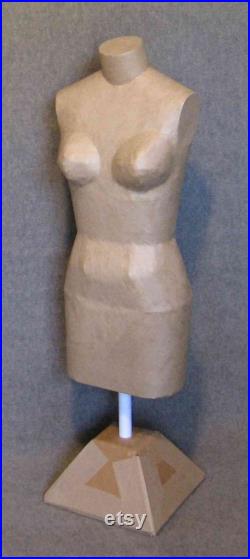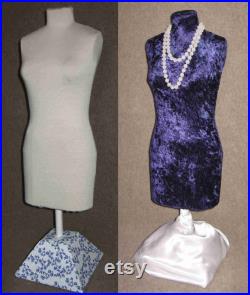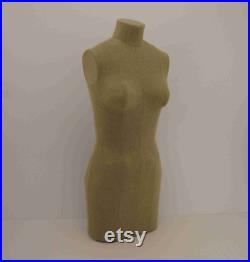 This listing is for 250 copies of the pattern with a 50% student discount. This is a downloadable pdf pattern for a paper half-scale dress form. Print the pattern on card stock, then cut it out and glue and tape it together following my detailed step-by-step instructions. I recommend strengthening the finished dress form by covering it with paper mache or gummed kraft paper tape. Patternmaking or fashion design students can use this dress form to practice flat patternmaking or draping, or just use it to display your necklaces on your dresser or decorate your sewing room. Also included in this pdf is a pattern to make a cardboard stand for the dress form. If you prefer to make a soft dress form, i also have two different versions of stuffed fabric dress form patterns. Bust: 17 1/2 (44.5 cm).
Waist: 13 1/2 (34 cm). Back neck to waist: 8 (20 cm).
Total height: 17 1/2 (44 cm). Large scissors for cutting card stock, tape, and corrugated cardboard. 16 sheets of 110 lb (200 g/m2) card stock, 8 1/2" by 11" or a4. Tape that sticks well to paper, such as scotch(r) transparent tape (not magic or gift wrap tape), box sealing tape, or non-reinforced water activated (gummed) kraft paper tape. Craft glue or white glue.
Material to add about a pound (500 grams) of weight to the base of the dress form, such as dry beans, plastic pellets, gravel, or nuts and bolts. Stuffing material such as fabric scraps, cut-up old clothing, cotton quilt batting scraps, cotton fiber, or bamboo fiber (not polyester fiber fill). If you are also making the cardboard dress form stand, you will need additional cardboard, 2 more pounds (1 kg) of material to add weight, and an appoximately 3/4 (2 cm) diameter dowel. If you choose to cover the dress form with paper mache, you will need newspaper and white glue, flour, or cornstarch. If you cover the dress form with water activated kraft paper tape, you will need a small roll of the tape and a kitchen sponge.
You may also want to use a craft sealer such as mod podge and/or paint. If you make the cardboard stand, you will probably want something to cover it with, such as contact paper or fabric. I also have some free half-scale patterns for a knit cover and garments to fit these dress forms available to download.