Adjustable Height Bust Form, Chest Mannequin for Jewelry Display,Fashion Necklace Display Holder,Model Torso for scarves Storage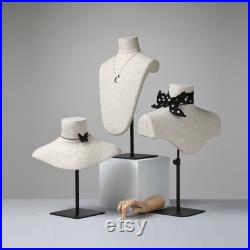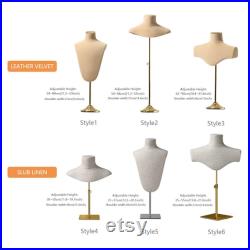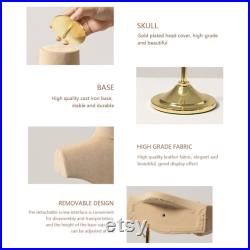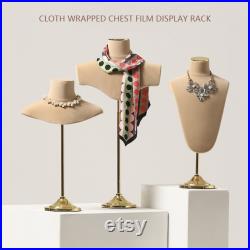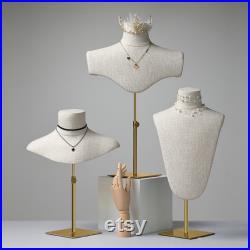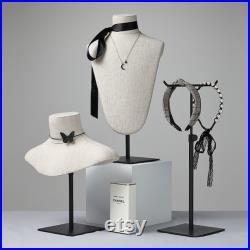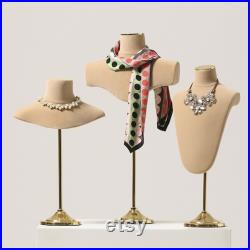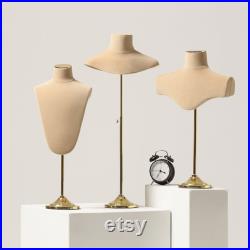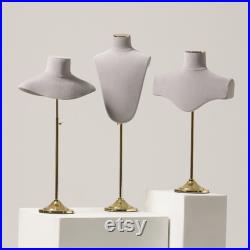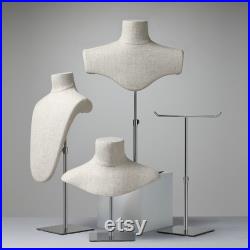 Style 1---adjustable height:54-84 cm(21.2-33 inch), shoulder width:27 cm(10.6 inch). Style 2---adjustable height:54-84 cm(21.2-33 inch), shoulder width:37 cm(14.6 inch). Style 3---adjustable height:62-90 cm(24.4-35.4 inch), shoulder width:38 cm(15 inch).
Style 4---adjustable height:30-50 cm(11.8-19.7 inch), shoulder width:39 cm(15.3 inch). Style 5---adjustable height:31-51 cm(12.2-20.1 inch), shoulder width:26 cm(10.2 inch). Style 6---adjustable height:35-55 cm(13.8-21.6 inch), shoulder width:37 cm(14.6 inch). Color:beige / grey /linen. Pls note only the style 1style 2style 3 can choose the beige color.
Material: fabric of bust mannequin: slub fabric / leather velvet. Skull---golden plated head cover, high-grade and beautiful. Base---high quality cast iron base, stable and durable.
High grade fabric---high quality leather fabric, elegant and beautiful, good display effect. Removable design---the detachable screw interface is convenient for disassembly and transportation, and the height of the base support can be adjusted at will. Shoulder display -- bamboo hemp fabric, frp material. Bottom interface -- threaded interface, easy installation, 360 degree rotation.
Base display -- metal material, brushed texture, strong and durable. This is our latest product, leather fabric mannequin, this is very good quality and luxury brand use this rack for window decoration, for jewelry display, for bow tie display, it must. Attractive more custom to your store. This mannequin is great organizer for jewelry/accesories /scraf/necklace/sun glasses/ties display. What are you waiting for, get your accesorie organizer now and you will be able to get more sales.
You could also use it to take jewelry photography, it'll professionally present your products. The accentuated neckline draws focus to the necklace and the graceful white color upgrades your treasured jewelry more elegant. It is also a good photo prop to show the charm of necklace jewelry or collar in all aspects and attract the eyeballs of customers. The fashionable leather material has a very good. Texture to touch and is not easy to be dirty.
If you are jewelry fashion designer or display designer, or you are open new shop and want to improve your sales, then use a proper and fashion display mannequin is really. A variety of combinations, free placement. Clothing display, shooting props, wig display, jewelry display, etc. Delicate facial features, natural delicacy, high simulation, attention to every detail.
Since the establishment has been updated iteration, change and innovation. Design and manufacture of high quality models is our goal. What are you waiting for, get your accessorie organizer now and you will be able to get more sales.
We will reply to you within 24 hours as soon as possible. This item is made of mannequin bust and mannequin bust robe, chest model, display prop, bust stand, high quality torso for jewelry window display, buste mannequin homme, bust mannequin women, female mannequin chest, torso bust male mannequin, jewelry mannequin necklace bust, light bust mannequin, jewelry display rack.