Adult Female Plus Size Mannequin Torso Display Dummy,Bamboo Linen Fabric Clothing Dress Form,Adult Props with Wooden Arms,Window Display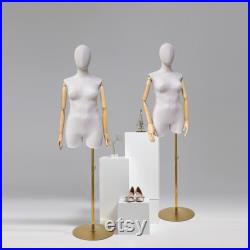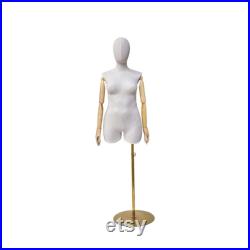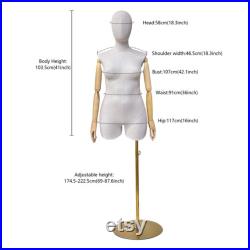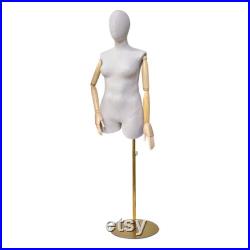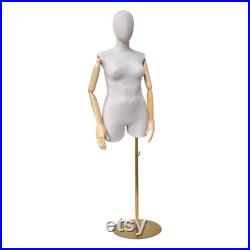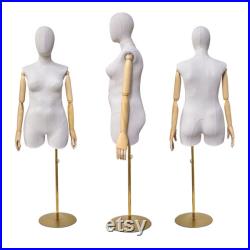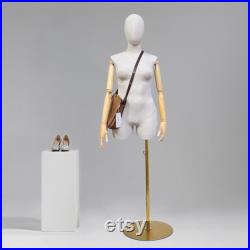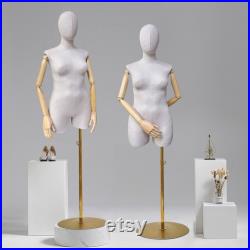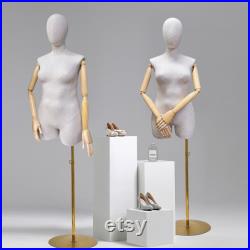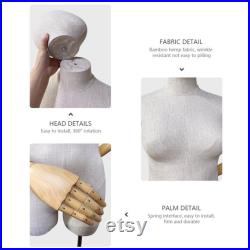 This is our newest fashion plus size female display mannequin, which covered by bamboo linen and normally in the market, the size is always slim and thin, so de liang search the market and figure out plus size for display extra size dress, it's perfect for plus size usa and european dress display. With leggings and the pattern sewing for the mannequin is handmade. Of course, this stylish and avan guard design make our plus size mannequin become the most popular items today, especially for the quality and fine material.
You will feel confident enough to try this plus size mannequin. Body height:103.5cm (41 inch). Shoulder width:46.5(18.3 inch). Bust:107cm (42.1 inch).
Adjustable height:174.5-222.5cm(69-87.6 inch). Base : golden disc baseadjustable stand satisfy various demands. You can use the clip to adjust the height. Arm color: natural wood color.
This female half body mannequin with metal base is our a very fashionable new product, musk bamboo hemp cloth, high-grade atmosphere. You can use it to display your products in a window, on a counter, on a tiered display shelf, or on the floor. Ideal for sweaters, t-shirts, jackets, dresses, blouses, tops and accessories.
Light weight and easy to move, it is convenient for you to move the mannequin and suitable for you to place anywhere you need it. The metal base is durable enough to serve longer time and strongly support the whole mannequin. Gorgeous appearance and beautiful dress match, can definitely attract a lot of customers for the store. Even this is plus size, but it's light weight to easy to install and for window display. Perfect sewing seam through over the pattern of the mannequin. Art work by pattern design.
This item is made of mannequin half body, fabric half body female mannequin, high grade mannequin, realistic female mannequins, half body with wooden arm, adjustable model, fashion female boutique window, half body dress form, plus size mannequin female, plus size mannequin full body, plus size mannequin torso, plus size model mannequin and plus size mannequin for sewing.