Adult Size Female Fabric Mannequin Adjustable Height Women Model with Acrylic Base Half Body Store Window Display Mannequin Torso Dress Form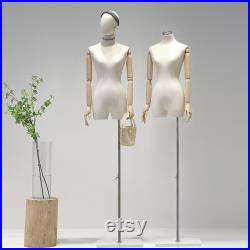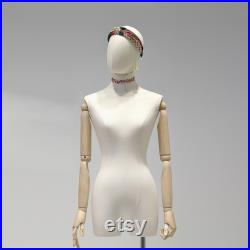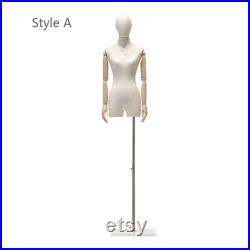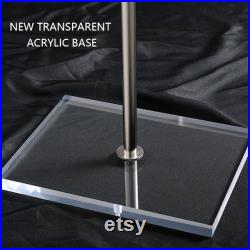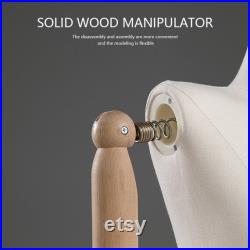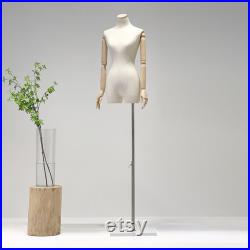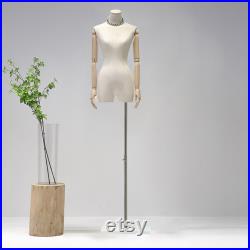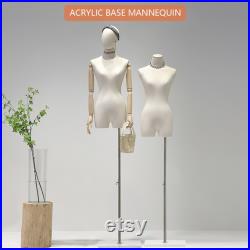 This is adult female fabric wrapped half body display mannequin for window cloth display usage. You can use it for your hat, luxury cloth, scarves, trouser display stand.
The wooden arms can detachable, the head can detachable. Size: body height:81 cm(31.9 inch)/shoulder width:39 cm(15.3 inch)/bust:84 cm(33.1 inch)/waist:63 cm(24.8 inch)/hip:85 cm(33.5 inch)/pole height:119 cm(46.8 inch).
Style a: body+head+ wooden arms+square acrylic base. Style b: body+wooden arms+square acrylic base. Fabric: comfortable canvas cloth, high-grade atmosphere. Arm: natural wooden arms with matt oil. Base: transparent material acrylic square base, more noble, not easy to dirty adjustable stand satisfy various demands.
You can use the clip to adjust the height. This female half body mannequin with metal base is our a very fashionable new product, musk skin velvet cloth, high-grade atmosphere.
You can use it to display your products in a window, on a counter, on a tiered display shelf, or on the floor. Ideal for sweaters, t-shirts, jackets, dresses, blouses, tops and accessories.
Light weight and easy to move, it is convenient for you to move the mannequin and suitable for you to place anywhere you need it. The metal base is durable enough to serve longer time and strongly support the whole mannequin. Gorgeous appearance and beautiful dress match, can definitely attract a lot of customers for the store. S: you can collect our store, because we have updated many new models and issued many promotion items.
This item is made of arms mannequin and dress form custom, dummy, fabric half body female mannequin, high grade mannequin, realistic female mannequins, mannequin for clothes show, dressform for sunglasses display, half body dress form, mannequin body, half body with wooden arm, adjustable model, fashion female boutique window.