Amazing Vintage French Swivelling Shop Mannequin Bust Millinery Wig Stand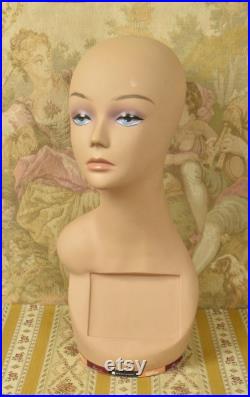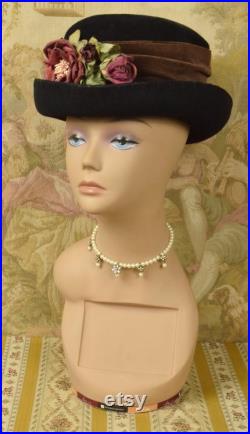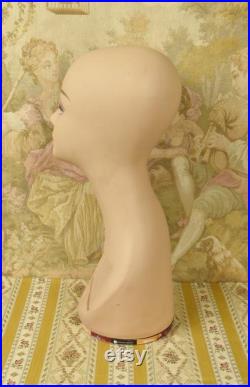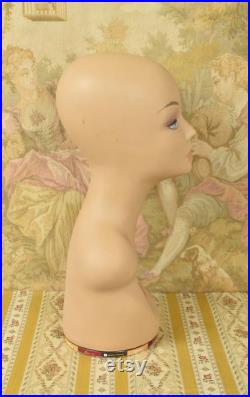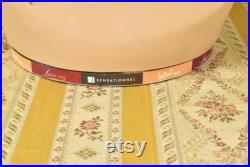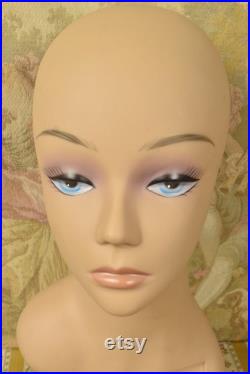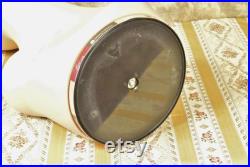 This is an amazing life size vintage french shop mannequin / bust circa 1960/70. She was originally used to display wigs but would also be perfect for displaying hats. She has a beautifully painted face. Her aquamarine eyes are painted in wonderful detail and she wears black eyeliner to compliment them. She has fine arched eyebrows and a cute retroussé nose.
Her red lips are full and plumptious and she wears coral lipstick. The mannequin's head is very full at the back to perfectly simulate the size and shape of a human female head so that the wigs and hats fit snugly and are therefore displayed correctly. Around the base of the mannequin is a paper label with'lace wig', sensationnal' and'instant weave'. At the front is a rectangular indentation which would at one time have held a sign. She is in good condition with a few minor marks. We have left her as we found her and she would clean further if required. She measures :- 48 cm (18.75 inches) high x 20 cm (8 inches) wide x 20 cm (8 inches) deep. A fabulous mannequin for displaying wigs and hats and another divine vintage french shop display find from la belle étoffe. The hats are just for display and are not included. Please view all the photo's on a laptop or desktop computer to see the full detail and condition of this item. If you have any questions please let us know. All our items are carefully packaged and sent'tracked' via the french postal service colissimo.