Antique Dressmaker Mannequin w Adjustable Cage Bottom w Rolling Claw Footed Base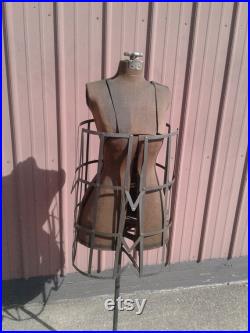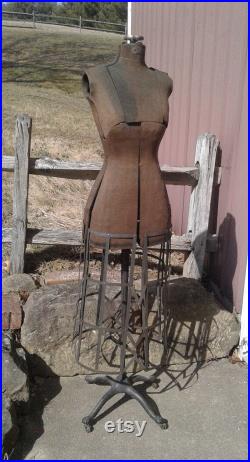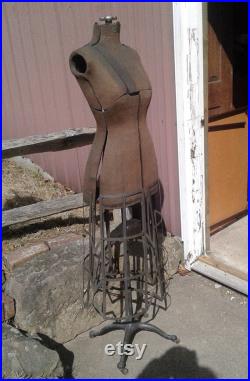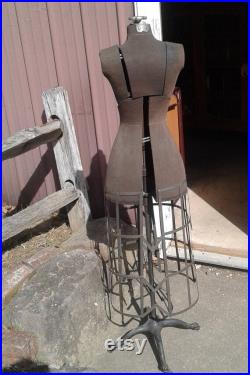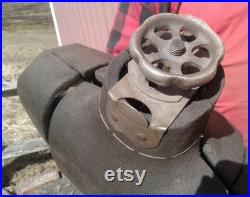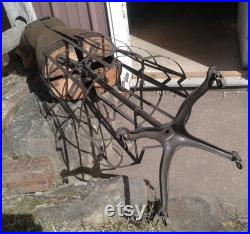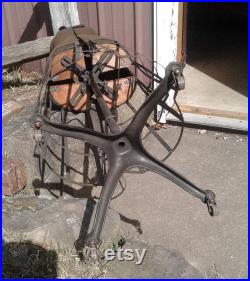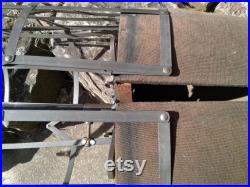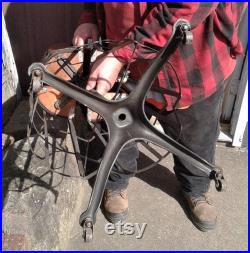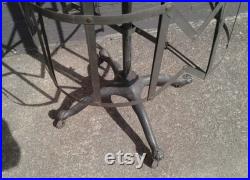 Antique industrial dressmaker mannequin w adjustable cage bottom w rolling claw footed base. A rare industrial antique knitted cloth over wood dressmaker mannequin featuring an adjustable cage dress bottom.
Also included is a rolling claw footed cast iron base with casters. Some minimal damage to the knitted cloth body. The body itself adjusts and is 29 inches tall.
The steel dress cage bottom adjusts in diameter and is 23 inches tall. About 60 inches tall overall when folded out. We guesstimate it will adjust up 12 inches more.
A beefy heavy duty industrial pierced iron knob. Back in the late 1890s this dress form was manufactured for the seamstress or dressmaker in mind.
Please note all photos for they too are a part of our descriptions. We are also professional packagers.
We do pack with air bags, newspapers and other types of light packaging fillers. Also, all our items are not guaranteed for their original purposes. We promise to treat your item with care and respect when packaging for transport.
Nearly all of our items are from a secondary market. We make every effort to describe any flaws or damage. We never intend to misrepresent our listings.
Note: funds need to be cleared before item(s) are picked up. We always suggest getting several quotes because rates can vary from one shipper to another. You can google antique furniture shipper and many companies are available.
Funds need to be cleared before item(s) are picked up. All items will need to be picked up at our business site within 30 days unless other arrangements have been made. Expedite usa, lee sacre, akron ohio, . All of our items we sell on etsy are antiques and collectibles. They range from the early primitives, eclectic, downright weird, to today's collectibles.
You probably will find almost anything you need right here in our store. We are located in the largest settlement of the amish in the world. We reside in the beautiful tuscarawas valley.
It is a rich rolling countryside and it is one of the larger tourist attractions. People from all over the world visit sugarcreek and the surrounding countryside to view our amish swiss german ancestry.
This item is made of antique industrial dressmaker mannequin and dressmake form adjustable cage bottom, rolling claw footed cast iron base w casters, body itself adjust cage adjusts, manufactured for the seamstress in mind, manufactured for the dress maker in mind, very old industrial antique seamstress form, dates back to the 1890s victorian era.