Antique Mannequin Vintage FRENCH DRESSMAKERS DUMMY rare Wasp Waist circa 1850-1900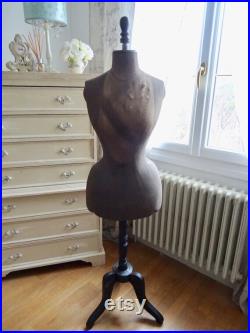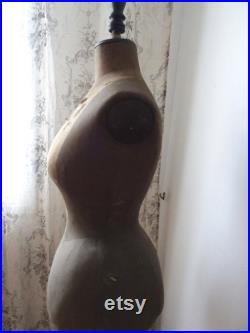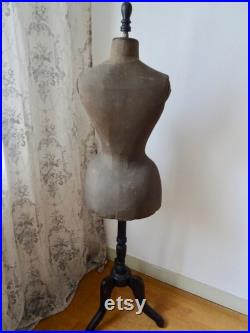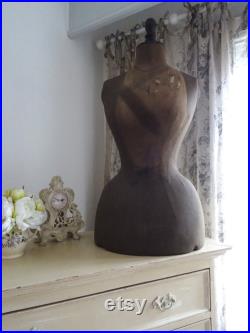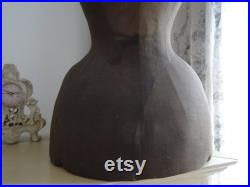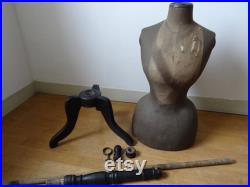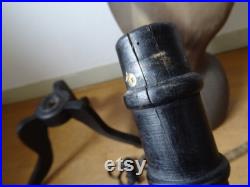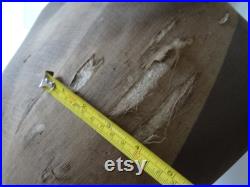 Super special find - antique and gloriously vintage french dressmakers dummy/ mannequin - circa late 1800's to early 1900. I adore her - she has aged ever so gracefully but does show war wounds to reflect her glorious life - i have left her just as i found her for i don't think she needs tarting up at all. Super wasp waisted as preferred back in the "belle époque" days, along with a full bosom.
She stands on a wooden spindle that slots into a tripod stand, this is lowered or heightened through using the little metal brass grabber, which would tighten the wood, it has over time caused splits to the wood a bit at the top neck - see pictures below. To be honest, once you have slotted her in, the height is fine and doesn't in my opinion need lowering or heightening at all. Her body is covered in pure linen that has weathered over time, there are markings galore as well as rust markings from the nails at the bottom that held her linen cover on, rubbing and wear as well as elsewhere, the linen fabric ripped and worn to truly reflect her very full and exciting life.
The wooden cover for the base (her underside) has over the years been replaced - there are little gaps but won't be visible unless you decide to display her upside down. The wooden tripod shows signs of previous wood worm that i can confirm is not active at all. This has been painted black with aged rubbing to the paintwork - the brackets used is solid brass which has been painted black but of course tarnished over the years. Madam guêpe can be displayed on her stand or sat on a chest etc as i have shown in the below pictures - please note that should you display just her torso the wooden ball end will not screw on at the top, i have it just sitting perked on as this secures through the spindle pole that gets inserted inside her torso.
From her neck to bottom of torso 28.3. Total assembled height is 61.8.