Art Deco Female Bust Cast Bust -Hand-painted Plaster Paris Fashion Mannequin 1940 Mannequin Style Art Women Bust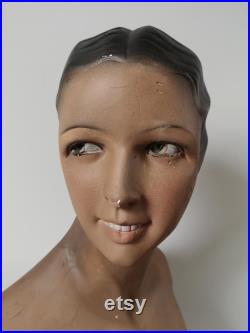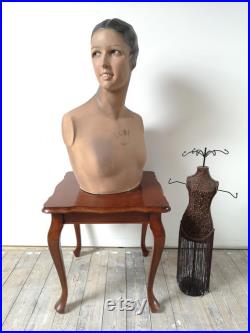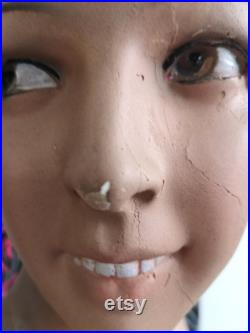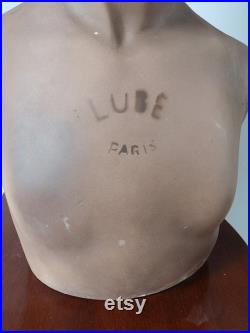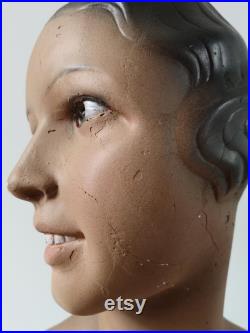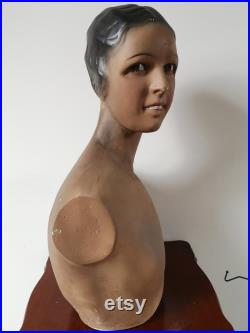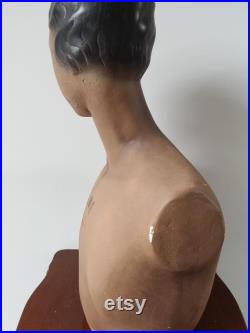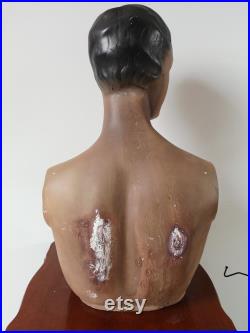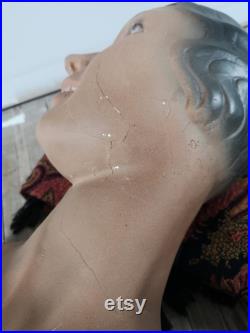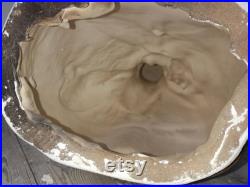 Lingerie fashion - old school year 1930-1940. French mannequin bust with character. Marked paris lubé in front. If you look closely at the photos, you can see that it has been finely edited and hand-painted. Female bust french style of 1930s. Facial expression of a smiling mouth that sees your teeth and turning head of 90%.
Color is dyed as real body color. Printed paris lubé middle front between the breasts. Of course this is an old mannequin bust of more than 90 years and made of plaster, which of course have light old age cracks.
Left head profile you can see her cracks running from the neck neck through the cheeks to her, this is not an open burst. Front and neck there is a dark place. On the back you see some paint gone off.
Perfect decoration presentation in a bedroom dressing, entrance hall on a high table, authentic or modern living room and also for shop window or counter table. This is a unique opportunity you have, because you won't find it easy. Total height 60cm or 23.62 inches. Shoulder width 34 cm or 13.38 inches.
Breast circumference 91cm or 35.82 inches. Waist circumference 79 cm or 31.10 inches.
Bottom diameter 25cm or 9.84 inches. Be sure to check out my shop at lolasstorebe. Please if you ask after reading the above information , ask for that you to order. This item is made of marked lubé and pleister, handgeschilderd, gegoten bust.