Black Leather White Linen Male Half Body Mannequin,Men Mannequin Torso with Rack,Fashion Body Model for Clothes Boutique Window Display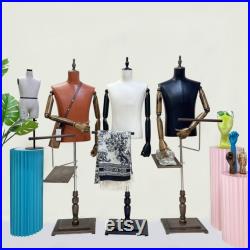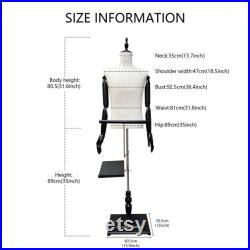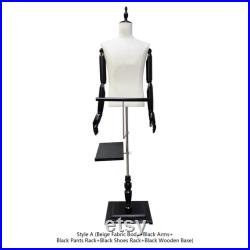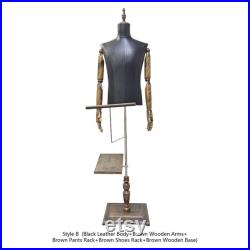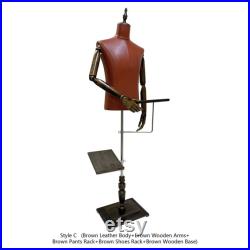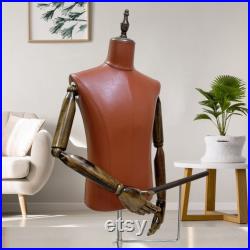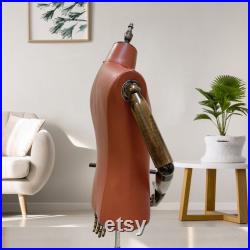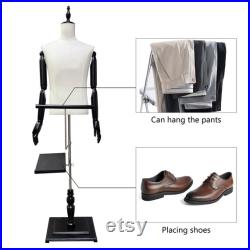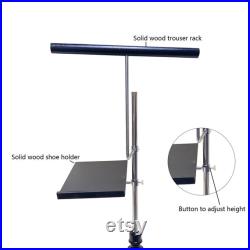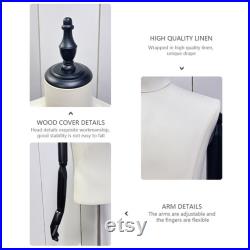 This is high quality male torso leather and canvas fabric mannequin for window display. You can use it to display your t-shirt, jacket, suit, pants, uniform and so on. We are proud to sell our collection directly to customers at affordable prices unseen in the luxury / handstitched category, while maintaining the same level of quality, service and design. Luxury is a crucial component of our collection and as we spend many hours on discovering the perfect design that makes the product unique for you and your beloved one.
Mannequin torso + wooden arms +t-rack +shoes holder +wooden base. Body height:68 cm(26.8 inch).
Total height:175 cm(68.8 inch). Shoulder width: 43 cm (16.9 inch). Bust: 93.5 cm (36.8 inch). Waist:81 cm (31.9 inch). Hip: 90 cm(35.4 inch).
Style a---- (beige fabric body+black arms+black pants rack+black shoes rack+black wooden base). Style b---- (black leather body+brown wooden arms+brown pants rack+brown shoes rack+brown wooden base). Style c--- (brown leather body+brown wooden arms+brown pants rack+brown shoes rack+brown wooden base). Leather fabric---smooth and textured, high-grade and attractive. Head interface---threaded interface, easy installation and 360 degree rotation.
Shoulder interface---spring interface, easy installation, 360 degree rotation. Wood arms---bionic fingers can move flexibly and display conveniently.
Bottom interface---abs double hole interface, trousers can be worn. This male half body mannequin with wood base is our a very fashionable new product, premium fabric cloth, high-grade atmosphere. You can use it to display your products in a window, on a store, on a counter, on a tiered display shelf, or on the floor. Ideal for sweaters, t-shirts, jackets, coat, blouses, tops and accessories.
Normal weight and easy to move, it is convenient for you to move the mannequin and suitable for you to place anywhere you need it. The wood base is durable enough to serve longer time and strongly support the whole mannequin. Gorgeous appearance and beautiful coat match, can definitely attract a lot of customers for the store. Our male mannequin is handmade, all details about sewing are made thoutfully. Wooden arms can be put into many postures to display your clothes.
Men mannequin, men model , male model, mannequin with base, clothes stand, clothes holder, headphone holder, headphone stand, bag holder, bag stand, wallet. This item is made of wodden base, linen fabric model, couture display, male dress form, dress form, man clothes, half body with wooden arm, half body with rack, fashion design, torso half body, mannequin for jacket display, jacket show props and model for shop show.