Bridal Shower Mannequin Tabletop, Wedding Dress, Wedding Decoration for Centerpiece, Bridal Centerpiece, Tabletop Dress Form Mannequin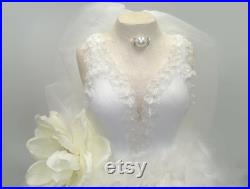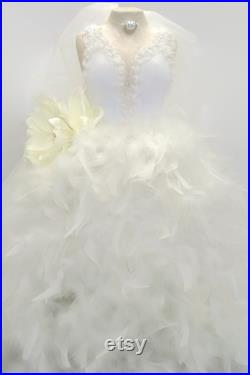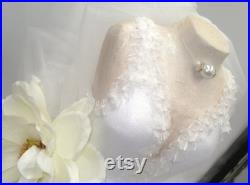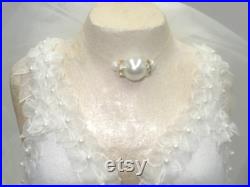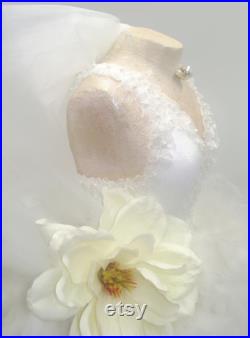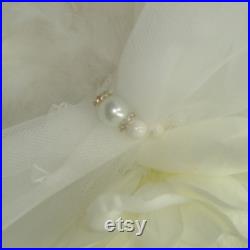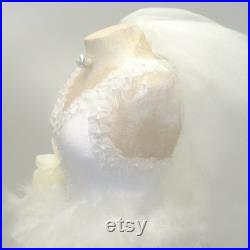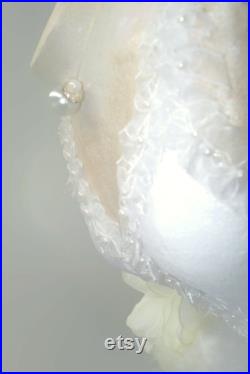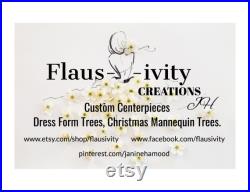 Dress form bridal shower wedding mannequin centerpiece. Omg what a statement piece full of confidence & beauty.
Maggie dress form, mannequin, is sure in her beauty, a fairytale wedding dress. The mannequin has a beaded veil with a beaded clasp to hold back veil as she walks into the gardens for her photo shoot.
Mannequin, maggie captivates her guests with her fitted bustier with tiny flower surrounds. She walks in pride with her feathered skirt that is such an eye opener & talking piece for all. Truly a dress form masterpiece, work of art, one-of-a-kind, for brides to be, your wedding centerpiece, bridal shower, wedding gift, wedding décor.
Great for your wedding table. Something special for your home décor. Variations can be made up in different colors or send me your bridal fabric to create a custom mannequin/dress form to resemble your wedding gown for that day, to remember that special day. Decorated mannequin materials used, are beads, embellishments, feathers and pearls.
Each bridal mannequin will resemble the same as photographed depending the availability of flowers, and trim around bustier i will do my best to source and find the closest as photographed. Tabletop centerpiece measures at 23" wide x 22-24" height. All works are varnished for perseverance of color.
My dress form décor begins with a child's tabletop dress form cast that is paper mache and plastered. I have carefully sourced materials to give her the wow factor. My inspiration comes from my love and flair for bridal fashion and to recreate these beautiful mannequins, dress forms into really beautiful centerpieces. Can stand on candle holder or as a table sitter. Always available to answer your questions.
Handmade dress form centerpieces and mannequins truly make a statement for that special occasion or decorative display for your home décor. If you would like to learn more about me & my journey, please visit my about page. Custom creations will take to 2-3 weeks for completion. I will do my very best to recreate the dress form listed in the photo. There could be a possibility that the materials will be substituted but will be replaced with similar colors, textures, due to their availability but will do my very best to source and use the same materials. Bring my work into your home or business, from south florida, .