Chrome Head Mannequin,Plate Head Dress Form for Wig Hat Display Head, Headband Sunglasses Hair Holder, Adjustable Height Golden Head Model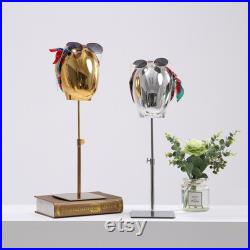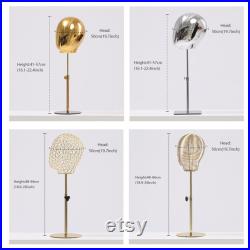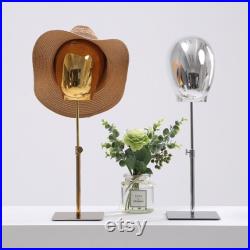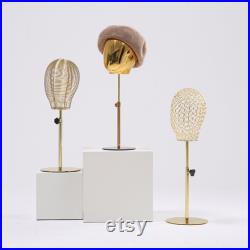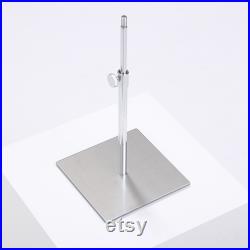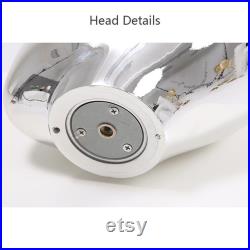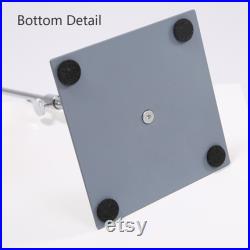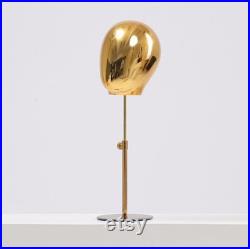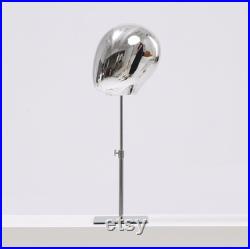 This is a fashion design head mannequin, it's very classical and new color for hat display stand, if you put your hat or your headpiece for decoration, it will be very beautiful. Style a: gold plated head +gold round base. Style b: chrome plated head +chrome square base. Style a:head vertical : 50 cm(19.7 inch), height :41-57 cm (16.1-22.4 inch).
The head mannequin is made of high-quality, eco-friendly materials, which have been carefully selected for their composition and reliability. This is plated head, not pinable. The upper part of the mannequin is flexible, which allows display hat , mask, sunglasses, wig , headphones, hair and jewelry etc. Perfect gift for your mother, wife, yourself or that person who loves to wear wigs and hats jelimate adds a timeless, elegant touch to the gift.
Product use: jewelry display, sunglasses display, hat display, window display, decorative props, cap display, wig display, fashion show, store display, mask display etc. Head mold display props wig hat glasses silk scarf accessories head mold bracket display frame head model dummy head. You could also use it to take products photography, it'll present your products in a professional way.
It works well for showcasing your products neatly on a countertop, storefront, trade shows or home environment. Female luxury chrome golden plated head mannequin head display head model hat wig sunglasses wedding ornament scarves hair mask cap headband headpiece jewelry display head display mannequin head mannequin jewelry holder dressmaker head dummy jewelry display storage mannequin head stand home jewelry hair headband organizer adjustable mannequin holder stand mannequin head metal hat stand hat display stand craft display head hat block hat holder. If you need bulk order, we can offer discount, pls contact our customer service. This item is made of metal head mannequin and head mannequin for hair, female head mannequin, wedding head, decorative props for jewelry shop, luxury head stand, hat holder, sunglasses holder, display rack, wig head, mannequin head, head dummy, head display.