Corset dress form Iminera Dita professional mannequin torso tailor dummy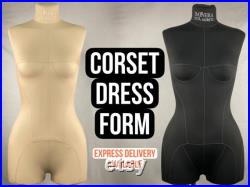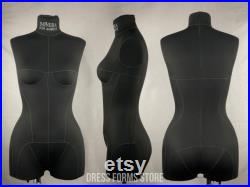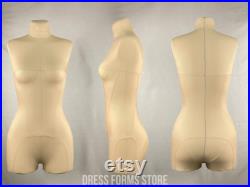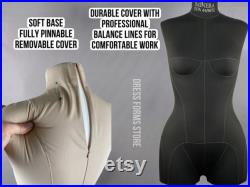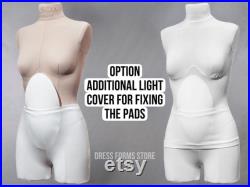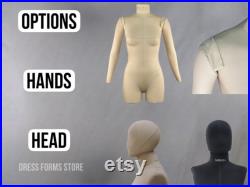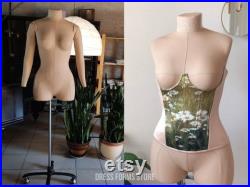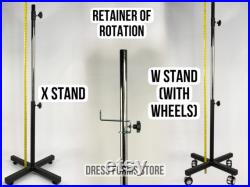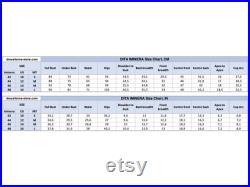 The dress form dita iminera was created for sewing corsets, corsages, lingerie. The parameters of the torso allow the tightening of the figure with a corset up to minus 6 cm at the waist, tucked up chest, flattened belly. Marking lines help building decorative elements and graceful shapes. Crafted from soft polymer material, compressible shoulders (without ability to fix), making it easy to put on fitted garments with ease.
100% pinnability - pins can go inside for their whole length. Heat and water resistant, so you can iron and steam right on it with ease.
Removable cotton cover, ensuring that your dress form is both durable and low maintenance. Over with professional construction lines for easier work. All stands come with a retainer of rotation. X stand is a reliable simple metal stand. W stand is metal stand on wheels.
Additional removable cover made of jersey. Helps to attach pads to the mannequin. There is no pads in set, cover only.
Made from the same material as the mannequin and comes with a removable cover. Made from the same material as the mannequin, attached to the dress form with needles. Contact me if you need size/colour or accessories which not available for order. Possible parameter deviation plus/minus 1 cm (0.39 in).
Iminera 42 / int s / us 10. Bust 84 cm / 33.1 in. Waist 61 cm / 24.0 in. Hips 92 cm / 36.2 in. Iminera 44 / int m / us 12.
Bust 88 cm / 34.6 in. Waist 65 cm / 25.6 in. Hips 94 cm / 37.0 in. Iminera 46 / int m / us 14.
Bust 92 cm / 36.2 in. Waist 68 cm / 26.8 in. Hips 99 cm / 39.0 in. Iminera 48 / int l / us 16.
Bust 96 cm / 37.8 in. Waist 68 cm / 28.0 in. Hips 99 cm / 40.2 in. This item is made of polyurethane and cotton.