DE-LIANG Luxury Kids Mannequin with Wooden Arms, Canvas Fabric SML size Child Half Body Dress Form Model for Cloth Display, Bamboo Linen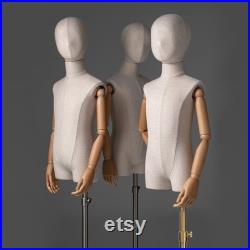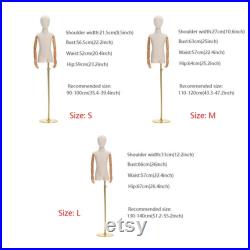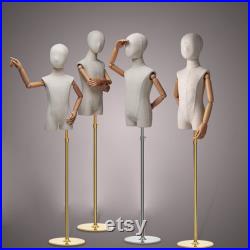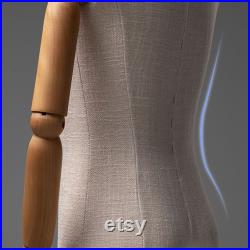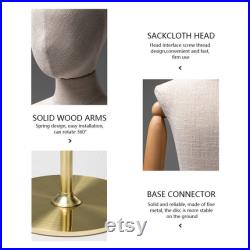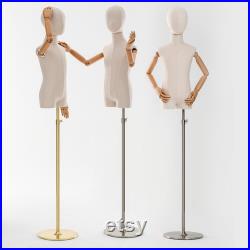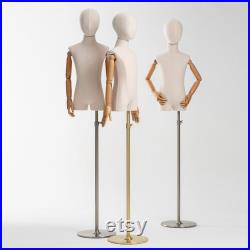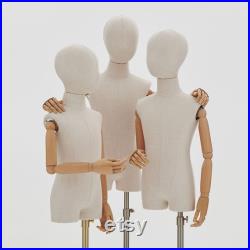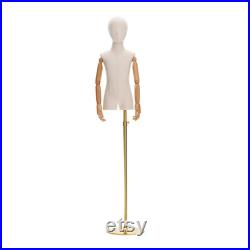 Clothing store children's model props window display rack half-length korean version of the dummy body lead male and female child models. The high - end bamboo fabric thickened base is stable and free to show the shape. Child half body display bamboo linen display mannequin.
Base: golden round base with adjustble pole. Arm: natural wood color wooden arms, lotus wood. Fashion trend children's models, cover by bamboo canvas fabric beige color, popular fabric today. Lovely child display mannequin, qualify items with extraordinary handmade sewing art work.
High quality wooden arms instead of normal cheaper wooden arms without black wooden grain dot, each cent worth it. Being to the luxury brand display props supplier, only after come with normious investment so that can bring successful.
Perfect sewing seam waistline to show your figure. Manipulator finger, flexible and flexible wooden arms.
Natural and luxuriou give off brand desire and exclusivity sense. Good display mannequin for window display, hat display, children clothing store display. Childlike models are exclusively created for children's clothing, conveying the fun of clothing, keep and enjoy your unique design, make your children store more outstanding. The screw pattern design of the head interface is cnvenient, fast , firm and durable. The arm interface, spring design, easy to install, can rotate 360 degree.
This item is made of linen mannequin and fabric mannequin, canvas mannequin, dress form sewing, children props, clothing mannequin, display mannequin for kids, window display mannequin, jewelry mannequin, wooden arms manenquin, mannequin hand, mannequin head kids, head for hat.