Design-Surgery Mannequin Lauren, Full Body,Tailors Dummy, Draping Stand, Detachable Leg and Arms. Sturdy Metal Base, Foot Pedal Height Adjust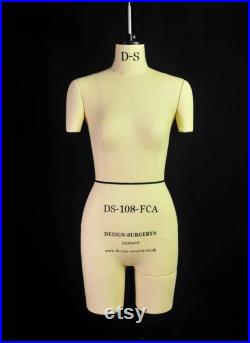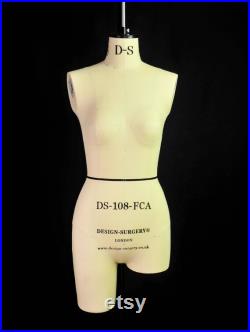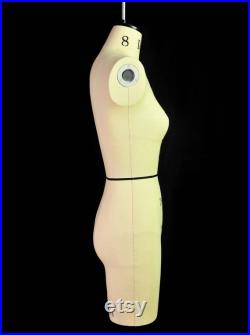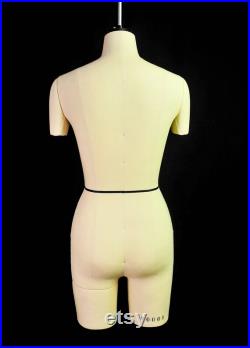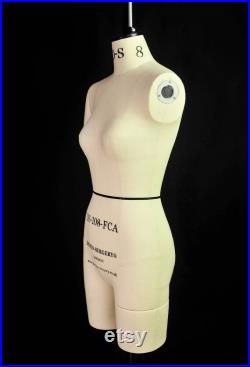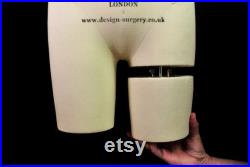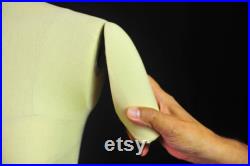 Hand made from recycled material. Lauren, (ds-108-fca), is our crotched model with detachable arms and a detachable, short left leg.
She has the same shape and measurements as her sisters wendy and florence. She has the 84cm bust; shaped to represent a typical size 8 runway model's breast. The above the bust measurement remains true to a real body shape at 81cm and it is possible to drape and fit strapless bodices and other styles of garments without having the problem of the front armhole gaping when fitted on a model. Lauren has a 90cm hip with a gently curved model's bottom reducing to a measurement of 50.5cm at the upper thigh, enabling closely fitting garments to follow the line of the model's figure. Like all our mannequins, the lauren is more anatomically correct and relevant to today's female and male body shapes.
Nape to waist: 41.5cm. Waist to waist via crotch: 69cm. Neck to neck via crotch: 147cm. The mannequin is suspended from the top and the stand-base is a heavy metal base, with castors and foot-pedal height adjustment. Parcel size 170 x 38cm x 38cm x 26kg. Design-surgery has designed, developed, sourced and supplied a new generation of tailors' and dressmakers' body forms, which reflect today's body shapes and incorporate a number of useful aids. Our mannequins are chosen by the british fashion council for their pattern cutting seminars as well as being the mannequin selected for fashion scout and graduate fashion week.
Design-surgery body stands are used in universities, design studios and by individual designers.