DL266B Half scale dress form 1 2 US Woman plus size 6, height 45.5cm lingerie bust dressmaker dummy tailor 1 2 slim bust sewing mannequin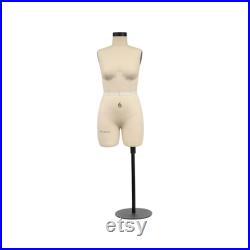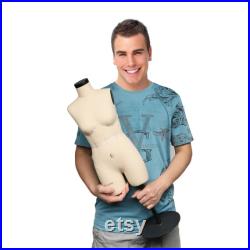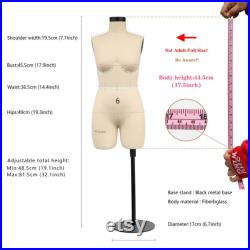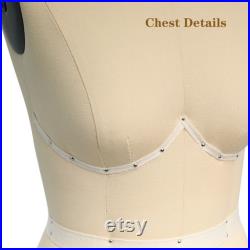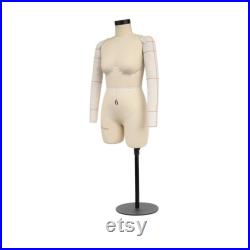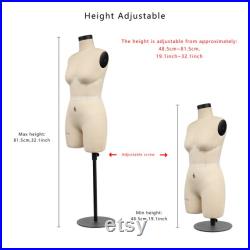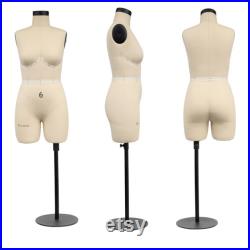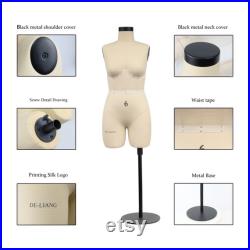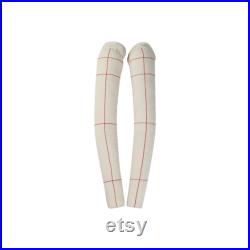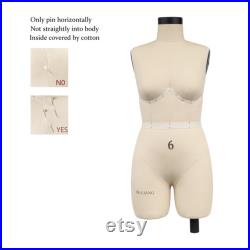 This is not adult full size, only 1/2 of the adult size, half scale means adult bust size 86cm, the half scale 1/2 1:2 is 43cm. But this one is a little bigger than normal size 6, it's petiet or woman. Product name: half scale size 6 petite woman bust dressform. It's can pinnable, but not fully, as it's fiberglass, it can pin at an angle.
Adjustable height - the height of the metal round base is adjustable by turning screw from approximately 18.3 inch to 31.7 inch (metal base with black metal pole including the dummy's body). Size:it is perfect for various types of garments.
Size 6: shoulder 19cm, bust 44.5cm, waist36.5cm, hip48.5cm, height45.5cm. Size for soft arms: 30cm length. Arm girth13.5cm, elbow 12cm, wrist 9.5cm. Advantage 1: with bust line and make a bust shape design. Advantage 3: the body is cover full cotton, and then wrapping with the cotton linen fabric, so people touch it, the surface will be very comfortable.
And good for tailor and draping. Advantage 4: metal round base is steady and stronger one, heavy so it will be good for draping when designer use the form to pin the dress. Acturally our first design is 5mm for the heavy base, but we think it's too heavy so make it lighter.
Moreover, the base is also not easy pealling off as this is sand polish and plate instead of painting. Advantage 5: we found people always without a trouser half scale , and also they want plus size, such as 8-10-12-14-16-18-20, and xxl half scale size 20-18-16-14.
Now we also under open molding, just need some time. Advantage 6: use the strongest boxes to pack the goods. Advantage 7: with good quality soft arms, you can bend it to similar human's arms shape. Designer and school student who major in fashion design can use this lovely items to do the cutting, template, sewing, and make the new and small size apparel. It can help people to save a lot of fabric material and sewing time compare of full size 1:1 adult garment, as we know before our cloth design come out perfectly and catch customer's eye will take many times, so do the test and see the style what we design again and again, change the color and design draft also can not avoided, designer's work will be complicated, hence, i make this half scale mannequin, and change the black shoulder cap and neck cover, and use a good fitting fabric to cover it, hope can help more and more designer, hope this items can save designer's time.
De liang half scale tailor trouser dressform dressmaker pattern sewing mannequin, this is half scale 1/2 size petie size 6 with slim bust line for lingeries and underwear sewing, the crotch will be wider, better for pant trouser design. We also going to develop plus size 14-16-18-20 woman half scale, you can collect our store and when you have time can see more items in the future. This is half scale trouser mannequin that was well produced in durable fiberglass/cotton/linen fabric. You may treat this as a regular size dummy since it is made proportionally reflecting to the regular size.
This small one may even get your ideas to reality quicker than the regular one while you want to experience something unsure in a faster time manner. It's good for making mock up and brainstorming ideas.
It saves up a lot of space and is portable for convenience. As this is small desk form, so we also can give children to make decoration, as well as we put it on the window shop for a decoration, it's aslo very traditional and classical visual enjoyment. Change our mind and extend your potential, we will enjoy to using this wonderful min form. The half scale is our new product for promotion today thank you for your interested in our mini form we will make many new design next time.
#half scale dress form #mini tailor dummy #half scale manikin#dress form half scale#adjustable mannequin#garment tailors# fashion designer#vintage mannequin#. We always try our best to help you thank you for your understanding. This item is made of fiberglass and cotton, lingerie mannequin, tailor mannequin, sewing mannequin, half scale mannequin, half size mannequin, mannequin size 10, pinable mannequin, trouser mannequin, dressmaker mannequin, dressmaker dummies, bust torso.