Female Velvet Fabric Head Mannequin Head,Hat Jewelry Cap Hair Wig Display Head Model ,Clothing Store Window Display Head Dummy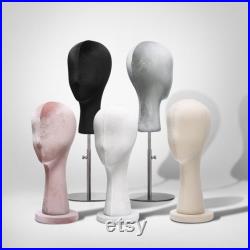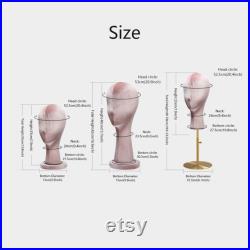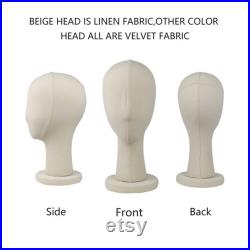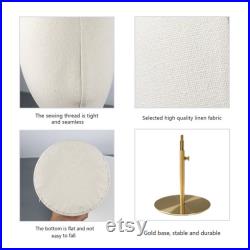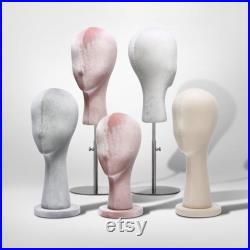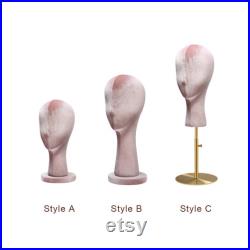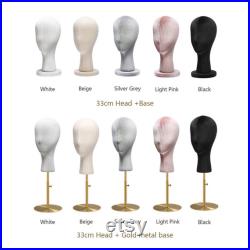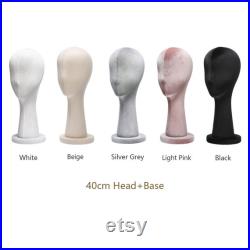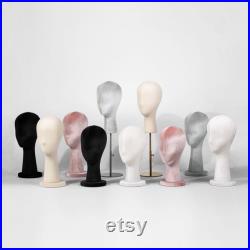 The is luxury velvet / linen fabric head mannequin , the design is very exqusite and noble, use it to dress up your store can grab customer's attention, use it to dress up your home can make your home become more cozy and gorgeous, use it to display your product or design can get better showing effect. Height of head:33cm, total height: 35cm, head bottom:27.5cm , base diameter: 15cm head circle: 52.5cm, neck:24cm, . Height of head:40cm, total height: 42cm, head bottom:30.5cm , base diameter: 15cm head circle: 53cm, neck:23.5cm, .
Style a: 33cm head+fabric base. Style c: 33cm head+gold round metal base (when we turn off the fabric round base, then you can put the metal pole into the head and it will be another style). Style b: 40cm head+fabric base. Beige rough linen (only this one is linen).
The head mannequin is made of fiberglass high-quality, eco-friendly materials, which have been carefully selected for their composition and reliability, the velvet is import and comfortable material, design is very new and fashion. Exquisite hand-sewing/handmade is more delicate;the upper part of the mannequin is flexible, which allows display headdresses , hat , mask, sunglasses, wig , hair and jewelry etc. On the mannequin;there is a golden round metal base or velvet base supporting element at the bottom of the foam head, which makes the foam head very stable. The material of head: fiberglass. Base :fabric base or gold round metal base.
Product use: jewelry display, sunglasses display, hat display, cosmetics display, decorative props, display props, wedding head , cap display, wig display, fashion show, store display, mask display etc. You could also use it to take products photography, it'll present your products in a professional way.
It works well for showcasing your products neatly on a countertop, storefront, trade shows or home environment. Velvet fabric wrapped female head mannequin stand wig head holder dressmaker head dummy head maker pinnable head stand jewelry wedding ornament sunglasses mask cap wig headband hair hat display head with little nose mannequin head model with base. Remark: the sunglasses , headband , earring and scarve of picture all is decorative, use for take photo, it is not sell product. And the head can put the ear, as it's foam material. If you need bulk order, we can offer discount, pls contact our customer service. Pinable head, metal base, torso mannequin, fabric head, fabric mannequin, women head, women mannequin. Gorgeous appearance and beautiful dress match, can definitely attract a lot of customers for the store. S: you can collect our store, because we have updated many new models and issued many promotion items. This item is made of head female mannequin and wig holder, colored mannequin heads, female mannequin head for wig display, mannequin with base, hat holder, mannequin props, female head, hat display head, sunglasses holder, mannequin torso, headdress, fabric head.