Female Velvet Linen Lace Fabric Head Mannequin Head,Hat Hair Scarf Earring Sunglasses Necklace Wig Display Head ,Jewelry Display Stand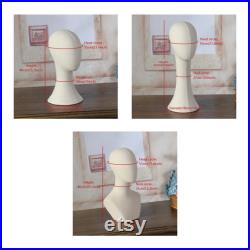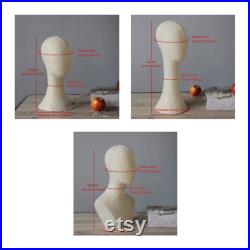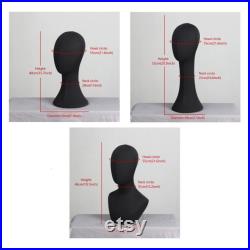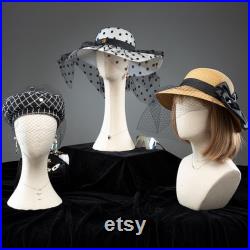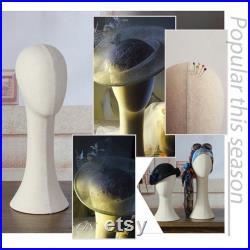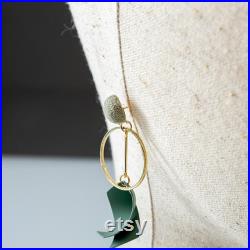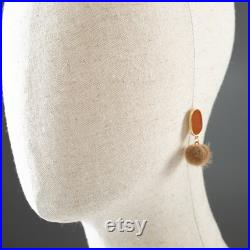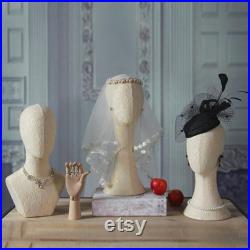 The product is imported fabric cover head , the design is very exquisite and noble, use it to dress up your store can grab customer's attention, use it to dress up your home can make your home become more cozy and gorgeous, use it to display your product or design can get better showing effect. Item name: female male linen display mannequin head. Style c:38-40cm height head ;head circle : 55 cm (21.6 inch), neck : 28 cm (11 inch), height : 40 cm (15.7 inch), base diameter: 19 cm (7.5 inch). Style a: 45-46cm height head ;head circle : 55 cm (21.6 inch), neck : 31 cm (12.2 inch), height : 46 cm (18.1 inch), bottom length : 10 cm (3.9 inch) , bottom width : 14 cm (5.5 inch). Style b: 50-52cm height head head circle : 55 cm (21.6 inch), neck : 27 cm (10.6 inch), height : 52 cm (20.5 inch), base diameter: 18 cm (7.1 inch).
The material of head : foam. Material of surface : black head is velvet fabric , beige head is linen fabric, beige head b is yellow lace fabric.
The head mannequin is made of high-quality, eco-friendly materials, which have been carefully selected for their composition and reliability. Putting aside the complicated design, the hand-sewn cloth head mold can show off the window style without worrying about matching. The style is stylish and atmospheric, full of nostalgic atmosphere. The simple and generous foaming cloth head mold is full of fresh breath, and the artistic curve has good visual effects. It is used for window display shooting, etc. Product use: jewelry display, sunglasses display, hat display, headdress display, decorative props, display props, wedding head , cap display, wig display, fashion show, store display, headband display, hairband display, headphone display, scarf display, veil display, earring display, necklace display, mask display , etc. You could also use it to take products photography, it'll present your products in a professional way. It works well for showcasing your products neatly on a countertop, storefront, trade shows or home environment.
Antique shape, full of nostalgia, can provide a variety of scenes needs matching, easy to get the retro feeling. Remark: the sunglasses , headband , earring and scarve of picture all is decorative, use for take photo, it is not sell product.
And the head can put the ear, as it's foam material. If you need bulk order, we can offer discount, pls contact our customer service. Gorgeous appearance and beautiful dress match, can definitely attract a lot of customers for the store. S: you can collect our store, because we have updated many new models and issued many promotion items. This item is made of wig holder and colored mannequin heads, female mannequin head for wig display, hat holder, mannequin props, female head, hat display head, sunglasses holder, mannequin torso, fabric head, jewelry display head, jewelry holder for jewellery, head scarf.