Full Body Glossy or Matte Finish White Ladies Fashion Mannequin with Included Stand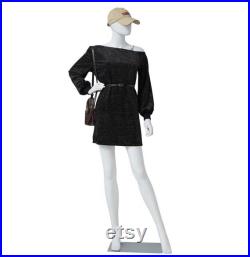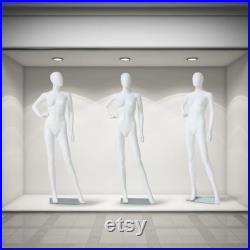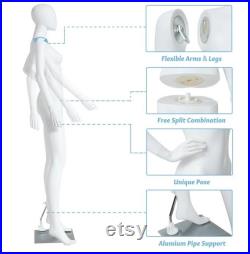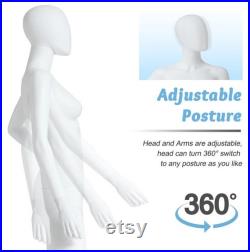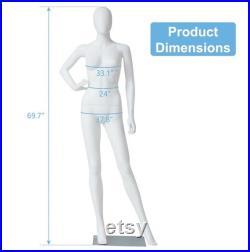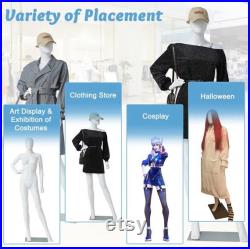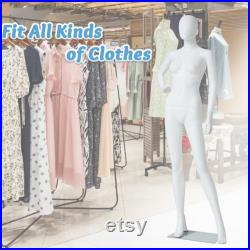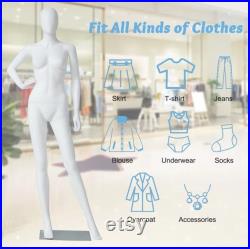 Item: full body glossy or matte finish white ladies fashion mannequin with included stand. This female mannequin is made of durable and hard-to-break plastic material.
It is indestructible, durable, meticulously crafted and detailed. The female mannequin body made you have a real and realistic feeling.
You can use it for clothes, wigs, shoes etc to model it and the hands are softer and realistic so jewelry can be put on it without easily slipping. You can take out the upper torso, head and arms if needed.
Not only for clothing shops, but also for art display of costumes and any display especially for halloween or christmas cosplay. Adjustable posture: the head of the realistic mannequin can be rotated 360 degrees.
Manikin body can be switched to any position as needed. The arms and legs are adjustable. You can match the clothes by vivid mannequin brackets.
Stable metal base: the female mannequin base is made of durable and sturdy metal. The large rectangular chassis has enough area to support the realistic mannequin and is equipped with aluminum rods as support rods. It is not easy to tilt or dump, ensuring the stability and robustness of the human manikin body.
Lightweight design: this lightweight detachable mannequin full body stand weighs only 17.42 lbs making it easy to carry around and move from one place to another so you can place it anywhere you need. The arms, legs and head of this mannequin are all can be disassembled, which is easy for storage and save space. Wide use: it is very perfect for any festival cosplay, window displays, shopping malls, clothing stores, exhibitions and clothing booths. Let this mannequin display and show your clothes perfectly.
Fits all kinds of clothes: with standard statistics of 33" chest, 24" waist, & 38 hip, this realistic mannequin female stand can fit any type of clothing like shirts, dress, jacket, blouse & accessories. Overall: 0'' h x 18'' w x 15'' d.
Overall product weight: 17.42 lb.