Headless Female Mannequin 3 4 Body Form, Sturdy Adjustable Tripod Wood Stand Polyurethane Foam Adjustable Height for Easy Dressing and Store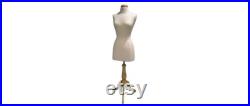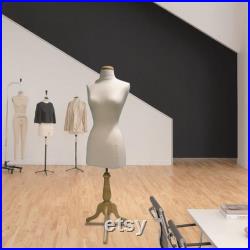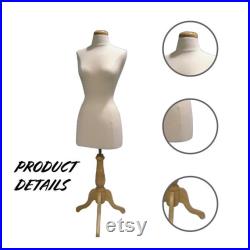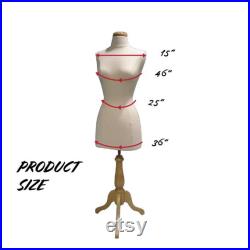 Durable & solid core strong: solid mannequin body, quality wooden stand, making the mannequin form steady and durable enough to support heavy weight clothes, garment, wedding gown, furnishing, and decorative material. The mannequin torso with stand is made of strong form to allow direct pinning anywhere and displays your clothes or product.
Height adjustable: the height of the dress mannequin can be adjusted from approx. 34 inches to 40 inches. The torso shoulders: 14-inch, chest: 36 1/2-inch, waist: 25-inch, hip: 34 inches.
Best choice for display: adjustable dress form is perfect for displaying dresses, suits, and pretty much all clothing. The mannequin helps to show with clear and clean.
Easy to assemble & disassemble: with the installation instruction enclosed in the product package, this pinnable mannequin can be completed the assemble or disassemble in minutes without any tools. Lightweight to carry: the female mannequin is lightweight and easy to move around.
Made from strong polyurethane foam which is user-friendly.