High End Female Half Body Display Dress Form,Embroidery Fabric Mannequin Dressmaker Stand , Wig Jewelry Hat Clothes Display Mannequin Torso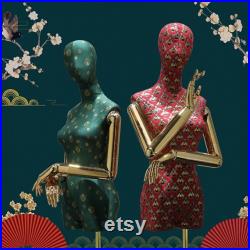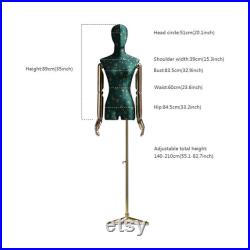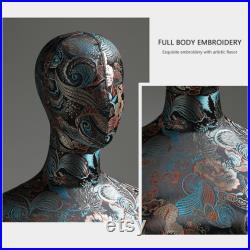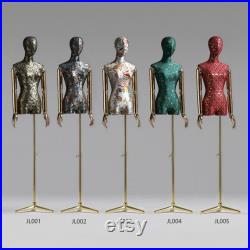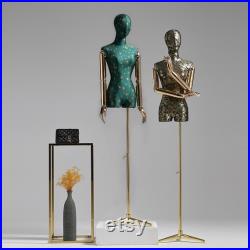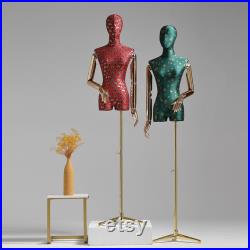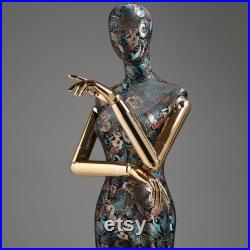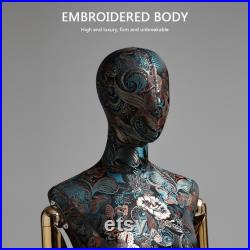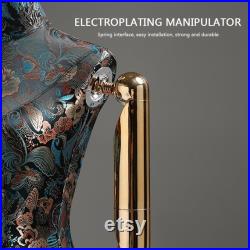 The product is luxury female embroidery mannequin, the design are very beautiful and fashion, use it to dress up your store can grab customer's attention, use it to dress up your window can make your window become more shiny and gorgeous, use it to dress up your works can present perfect display effect, will make a superb addition to your life. Style : mannequin body+head+gold plating arms + gold tripod base. Size : head : 51 cm (20.1 inch), shoulder width : 39 cm (15.3 inch), bust : 83.5 cm(32.9 inch) , waist : 60 cm(23.6 inch), hip : 84.5 cm(33.2 inch), body height : 89 cm(35 inch), adjustable total height : 140-210 cm(55.1-82.7 inch). The surface of mannequin : embroidery fabric. The feature of mannequin : exquisite embroidery pattern, all is handmade, this is not just a goods, this is a artwork.
Material for arms : golden plating hand. The female embroidery mannequin is made of high quality, eco-friendly materials, which have been carefully selected for their composition and reliability. Great for photography, display, and sewing, displays adult ladies clothing and accessories. Light weight and easy to move, it is convenient for you to move the mannequin and suitable for you to place anywhere you need it. Sturdy stand , the tripod base is durable enough to serve longer time and strongly support the whole mannequin.
Ideal for displaying jewelry, bag, wedding dress , couture, wig, sweaters, hat, t-shirts, jackets, coat, cap, sunglasses, glasses, gown, headband, hairband, sport wear, casual wear, scarf, dresses, blouses, tops and accessories. Great for display , you can use it to display your produce in a window, on a counter, on a tiered display shelf, or on the floor. National tide embroidery mannequin shelf clothing store display stand female mannequin props bust window display stand high end clothes window display women fiberglass mannequin stand whole body wedding dress form torso covered fabric mannequins female display with wooden arm women upper body mannequin dressmaking mannequin tailoring mannequin tailoring dress form female clothing mannequin lingerie mannequin window display model mannequin for clothing shop display adjustable female mannequins fashion dummy torso. If you need bulk order, we can offer discount, pls contact our customer service.
Gorgeous appearance and beautiful dress match, can definitely attract a lot of customers for the store. S: you can collect our store, because we have updated many new models and issued many promotion items. Keywords: mannequin costume, dummy head, hat holder, hat stand, hat display stand, jewelry holder organizer, dress dummy, mannequin stand, women mannequins, manikin head, vintage mannequin, fabric dress form, wig holder, wig stand, wig mannequin, female dummy, mannequin holder stand, adjustable mannequin , plating mannequin hand, half body dress form, corsets dress form, sewing lingerie, female body torso, body sculpture, mannequin bust, necklace mannequin, necklace holder, head scarf, couture mannequin, sewing dress form, display model, display dummy, mannequin for hat, clothing mannequin, gold mannequin arms. This item is made of dress form adjustable and dress form for sewing, dress form mannequin, tailor mannequin, jewelry display mannequin, mannequin head display, jewelry mannequin display, fashion mannequin torso, female dress form, jewelry bust display, vintage dress form, dress mannequin, mannequin head stand.