High-end Green Pink Orange Jewelry Display Bust ,Leather Pendant Chain Necklace Stand,Necklace Holder Bust For Jewelry Store Display Props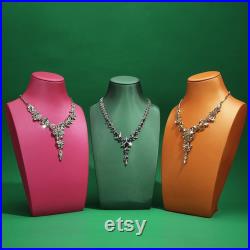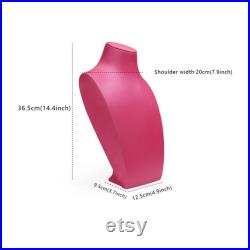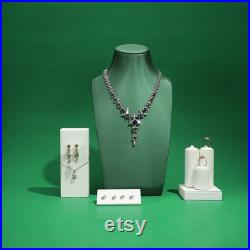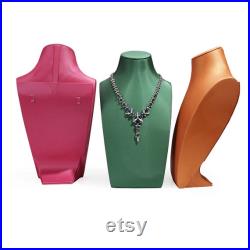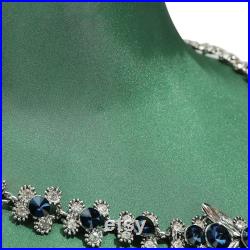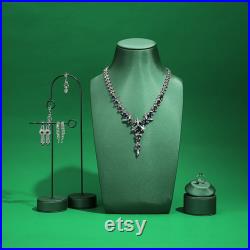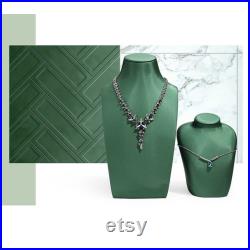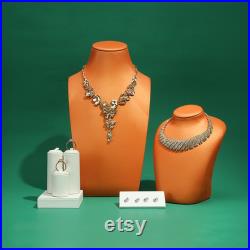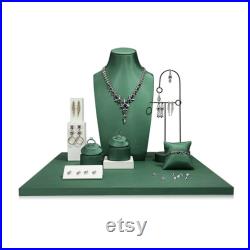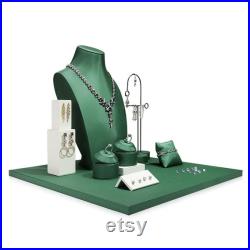 The product is high quality jewelry display bust , the design is very exquisite and noble, use it to dress up your store can grab customer's attention, use it to dress up your home can make your home become more cozy and gorgeous, use it to display your product or design can get better showing effect. Product name : jewelry display bust. Size : shoulder width : 20 cm(7.9 inch), height: 36.5 cm(14.4 inch), bottom wide: 9.5 cm (3.7 inch), bottom length: 12.5 cm(4.9 inch). The jewelry display bust is made of high-quality, eco-friendly materials, which have been carefully selected for their composition and reliability ; polished and smooth surface, strong and drop resistant, tough resin material. More simple more beautiful, small space display artifact, light and easy to handle, does not occupy space, meets the needs of small area display. Jewelry holder , not only can showcase the jewelry you sell and can display a variety of jewelry accessories , but also can create photos to show customers how the jewelry looks "in action". What's more, the matte surface of the leather minimizes the glare that usually appears in photos when the subject is brightly illuminated, it would be a great gift for yourself or your loved ones.
Well-made jewelry stand and modern decoration as practical storage for jewelry;jewelry can be stored and presented at the same time and is at the same time a modern geometric decorative art piece. If you are looking for a home jewelry storage stand, this jewelry rack set is a perfect choice;it may as a stand for earrings, necklaces, chains and bracelets;it will perfectly fit into any interior and will be an attractive decorative element of your home. Necklace mannequin jewelry display bust to store or like a home jewelry stand for choker or small necklace and earring together ; if you need a mannequin stand to showcase the jewelry you sell and create photos to show customers how the jewelry looks "in action", this mannequin will be incredibly useful to you.
You could also use it to take products photography, it'll present your products in a professional way. It works well for showcasing your products neatly on a countertop, storefront, trade shows or home environment. Elegant mannequin bust display stand leather mannequin head bust stand choker necklace jewelry rack display , ideal for displaying pendant, necklace etc, great for shop retail or personal use or festival gift.
Necklace stand display holder bust green orange pink jewelry bust model leather home jewelry organizer storage pendant chain showroom display factory high quality mannequin velvet neck model jewelry display holder mannequin necklace display bust handmade elegant custom jewelry necklace display bust customized jewelry stand display bust body mannequin jewelry display necklace display stand bust for luxury jewelry store counter portrait neck necklace display stand hanging model shelf jewelry neck mold. If you need bulk order, we can offer discount, pls contact our customer service.
Gorgeous appearance and beautiful dress match, can definitely attract a lot of customers for the store. S: you can collect our store, because we have updated many new models and issued many promotion items.
Keywords: necklace form, bust form, wedding ornaments, jewelry boxes, mannequin display bust, mannequin head stand, necklace bust holder, jewelry storage gift, jewelry bust stand, home jewelry holder, jewelry bust display, leather jewelry bust, chain display model, showroom display holder, retail display bust, retail mannequin, shop mannequin, fashion mannequin torso, mannequin body, mannequin jewelry display, diy jewelry display, workshop display bust, necklace easel, chain easel, retail display model, window mannequin, store mannequin, display holder stand, jewelry display case, mannequin for necklace, display necklace. This item is made of jewelry display set and jewellery display bust, jewellery display stand, jewelry mannequin stand, jewelry mannequin display, jewelry display bust, jewelry display stand, necklace mannequin stand, necklace display rack, jewelry display props, necklace hanging model, jewelry hanging mannequin, jewelry display rack.