High-end Male Mannequin Torso,Leather Fabric Men Bust Model Prop,Dummy Maniquin Body for Pants Suit Display,Adult Dress Form with Wood Base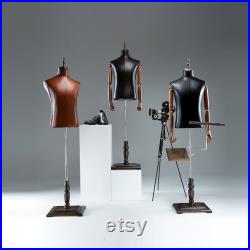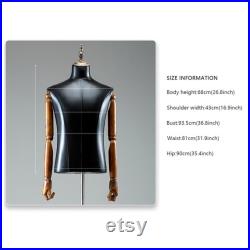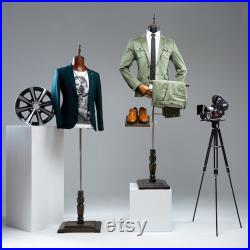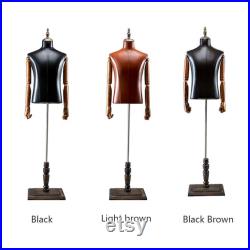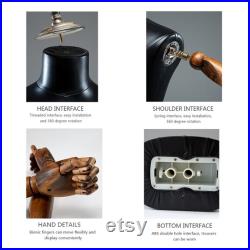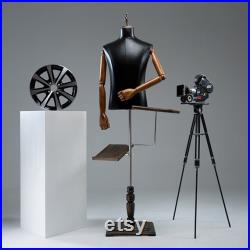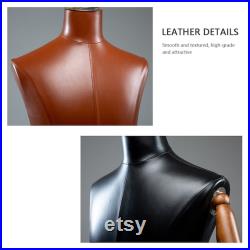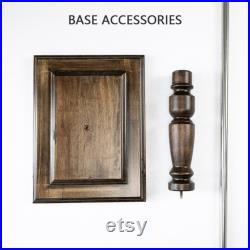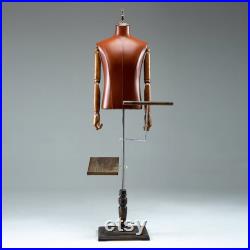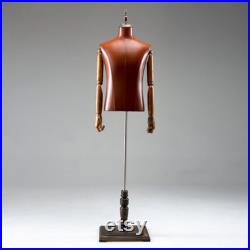 This is adult male leather fabric cover half body display mannequin with wood base for window garment display usage. You can use it for your hat, luxury cloth, scarves, pant, trouser display stand. The wooden arms can detachable. Size: body height:68 cm(26.8 inch). Total height:175 cm(68.8 inch).
Shoulder width: 43 cm (16.9 inch). Bust: 93.5 cm (36.8 inch). Waist:81 cm (31.9 inch).
Hip: 90 cm(35.4 inch). Body with arms, wood base. Body with arms, wood base, trouser rack, shoes holder.
Fabric color:black/ light brown/black brown. Base color:hand brush brown color. Fabric: leather fabric, high-grade atmosphere. Featured high-quality head cover design, simplicity and practicality coexist, the lines are clean , natural and elegant. Arm: hand brush brown color wood arms. The details are just right to show the big brand and high quality , rounded shoulder, flexible arms and tightly wrapped. Leather fabric---smooth and textured, high-grade and attractive. Head interface---threaded interface, easy installation and 360 degree rotation.
Shoulder interface---spring interface, easy installation, 360 degree rotation. Wood arms---bionic fingers can move flexibly and display conveniently. Bottom interface---abs double hole interface, trousers can be worn.
This male half body mannequin with wood base is our a very fashionable new product, premium fabric cloth, high-grade atmosphere. You can use it to display your products in a window, on a store, on a counter, on a tiered display shelf, or on the floor. Ideal for sweaters, t-shirts, jackets, coat, blouses, tops and accessories. Light weight and easy to move, it is convenient for you to move the mannequin and suitable for you to place anywhere you need it. The wood base is durable enough to serve longer time and strongly support the whole mannequin.
Gorgeous appearance and beautiful coat match, can definitely attract a lot of customers for the store. Men mannequin, men model , male model, mannequin with base, clothes stand, clothes holder, headphone holder, headphone stand, bag holder, bag stand, wallet. This item is made of mannequin half body and fabric half body female mannequin, mannequin for clothes show, dressform for sunglasses display, mannequin body, half body with wooden arm, fashion female boutique window, torso half body, half body dress form, men fabric display mannequin, dress form mannequin, manequin, dress mannequin.