High-grade Black Half Body Female Mannequin,Adjustable Women Cotton Dress Form, Clothing Model Props,Adult Mannequin with Flexible Wood Arms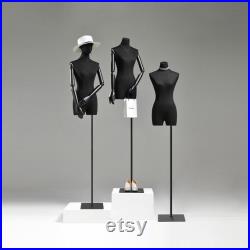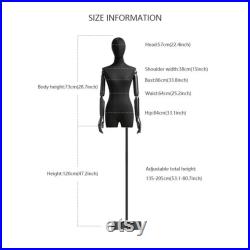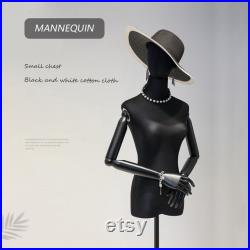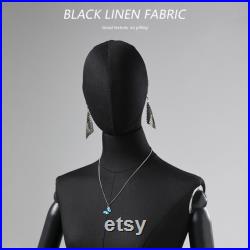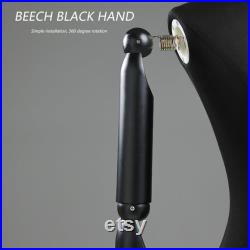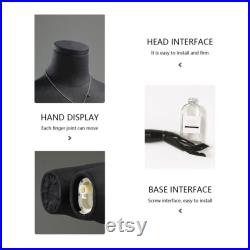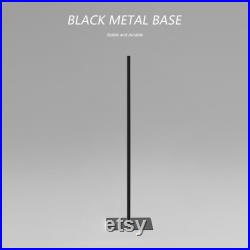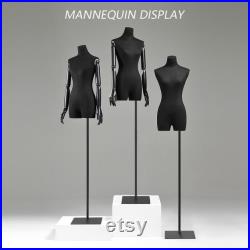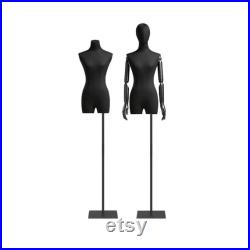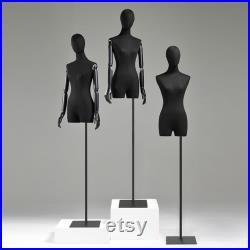 This is adult female cotton half body display mannequin for window cloth display usage. You can use it for your jewelry, luxury cloth, scarves, trouser display stand. The wooden arms can detachable, the head can detachable. Size: body height:73 cm (28.7 inch), adjustable total height:135-205 cm (53.1-80.7 inch), head:57 cm(22.4 inch), shoulder width:38 cm(15 inch), bust:86 cm (33.8 inch), waist:64.
Cm(25.2 inch), hip:84 cm (33.1 inch), base height:120 cm(47.2 inch). Style a: only form (body+black square base).
Style b:form+head+black square base. Style c:form+head+arms+black square base. Base's color is black square metal base. Fabric: comfortable linen cloth, high-grade atmosphere.
Base: black square base adjustable stand satisfy various demands. You can use the clip to adjust the height.
This female half body mannequin with metal base is our a very fashionable new product, musk cotton cloth, high-grade atmosphere. You can use it to display your products in a window, on a counter, on a tiered display shelf, or on the floor. Ideal for sweaters, t-shirts, jackets, dresses, blouses, tops and accessories. Light weight and easy to move, it is convenient for you to move the mannequin and suitable for you to place anywhere you need it.
The metal base is durable enough to serve longer time and strongly support the whole mannequin. Gorgeous appearance and beautiful dress match, can definitely attract a lot of customers for the store. Female display mannequin, window display model for dress, woman lady clothing mannequin, satin silk pink yellow blue dress form. This item is made of mannequin half body and fabric half body female mannequin, high grade mannequin, realistic female mannequins, mannequin for clothes show, dressform for sunglasses display, mannequin body, half body with wooden arm, adjustable model, fashion female boutique window, torso half body, half body dress form, dress form mannequin for sewing.