High Quality Half Body Female Mannequin, Colorful Velvet Fabric Display Dress form Model for Boutique Display, Manikin Torso with Wooden Arm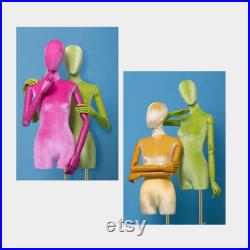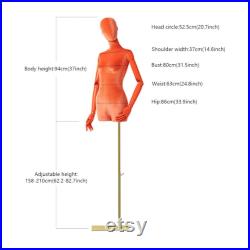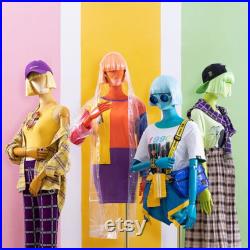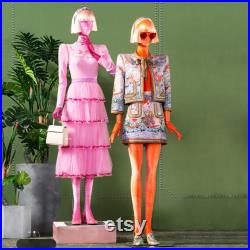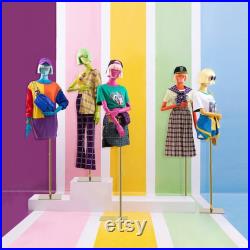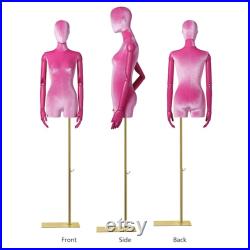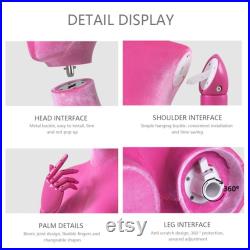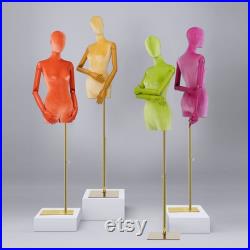 This is very luxury fashion adult female velvet half body display mannequin for window cloth display usage. You can use it for your hat, luxury cloth, scarves, trouser display stand. Good display mannequin for improve window vision. The wooden arms can detachable, the head can detachable.
Item 1 ---half body female display mannequin + colorful wooden arms+square golden base. Size:body height:94 cm(37 inch).
Head circle:52.5 cm(20.7 inch). Shoulder width:37 cm(14.6 inch).
Bust:80 cm(31.5 inch). Waist:63 cm(24.8 inch).
Hip:86 cm(33.9 inch). Adjustable height:158-210 cm(62.2-82.7 inch). Item 2 ---full body female display mannequin + colorful wooden arms+square golden base. Size:total height:185 cm(72.8 inch). Head:54 cm(21.3 inch).
Shoulder width:37 cm(14.6 inch)/bust:83 cm(32.7 inch). Waist:59 cm(23.2 inch).
Hip:87 cm(34.2 inch). Base's length:35 cm(13.7 inch). Base's width:35 cm(13.7 inch).
Color: yellow, orange, green, rose red. More details about display mannequin and wigs. Head interface:metal buckle, easy to install, firm and not pop up.
Shoulder interface:simple hanging buckle, convenient installation and time saving. Palm details:bionic joint design, flexible fingers and changeable shapes. Leg interface:anti scratch design, 360 degree protection, assured adjustable. This female half body mannequin with metal base is our a very fashionable new product, musk skin velvet cloth, high-grade atmosphere. You can use it to display your products in a window, on a counter, on a tiered display shelf, or on the floor. Ideal for sweaters, t-shirts, jackets, dresses, blouses, tops and accessories. Light weight and easy to move, it is convenient for you to move the mannequin and suitable for you to place anywhere you need it.
The metal base is durable enough to serve longer time and strongly support the whole mannequin. Gorgeous appearance and beautiful dress match, can definitely attract a lot of customers for the store. Dressmaker approved, 100% handmade - this fabric cover created by the most experienced dressmaker, and hand picked the soft and durable velvet.
It is an aesthetic piece that compliments your most fashionable projects, great for showcase the apparels in retail stores, accessories and jewelries. Easy to replace and change, and machine washable. But our customer service is always want to do 100% effort to service for each value customer. Expired will not be refundable(be careful). Dressform, dress form, mannequin full body, dressmaker, mannequin, mannequins, female mannequin, manichino sartoriale, fabric mannequin, display mannequin, display model, store mannequin, store model, adult mannequin, mannequin supplier, women mannequin, women model, female model, clothing display mannequin, window display mannequin, store window, dressmaking, dressmaking mannequin, sewing mannequin, abstract mannequin, female dummy, tailor dummy, tailor mannequin, tailor model, tailor manikin, mannequin challenge, store display props, maniquin full body. This item is made of mannequin half body and fabric half body female mannequin, realistic female mannequins, mannequin for clothes show, dressform for sunglasses display, mannequin body, half body with wooden arm, adjustable model, fashion female boutique window, display tools, torso half body, half body dress form, maniquin full body.