Luxury Head Mannequin,Matte White Color Wig Stand,Maniquins Head for Hat Jewelry Display,Female Male Head Prop Block Dress Form Model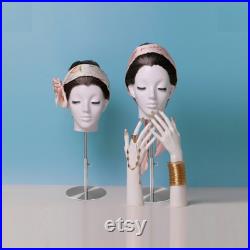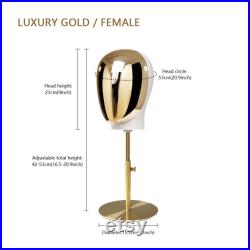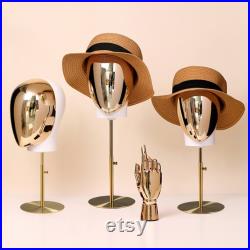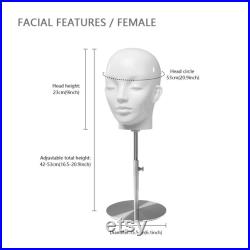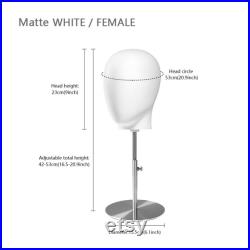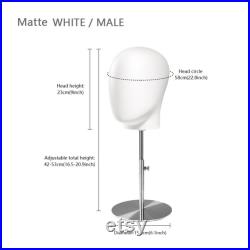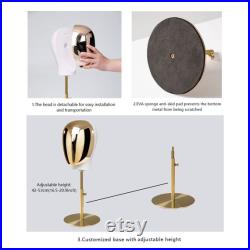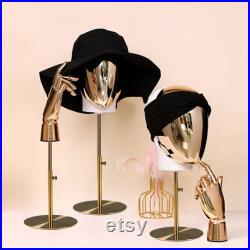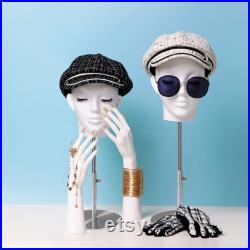 Size a: female head (female luxury gold head, female facial features head, female matte white head as the same size). Head circle: 53 cm(20.9 inch). Height of head: 23 cm(9 inch). Adjustable total height: 42-53 cm(16.5-20.9 inch) (base is adjustable). Base dia: 15 cm (6.7 inch). Head circle: 58 cm(22.8 inch). Color: head color:matte white. Base color:silver round base or golden round base. Pls note that the eyelashes, hats, sunglasses are all props for our photos prop.
We don't sell them. Exquisite burnish adjustable the pole and screw. Exquisite hand-sewing/handmade is more delicate.
Can wear glasses, abstract features, have ears nose features. There is a golden round metal base supporting element at the bottom of the head, which makes the fiberglass head very stable. The head adopts the metal circular base, the base is firm and durable, even if it is used for a long time, it will not be bad, and the color is very good-looking. You can use them for jewelry display, sunglasses display, hat display, hair display, decorative props, wedding head , cap display, wig display, fashion show, store display, mask display etc.
You could also use it to take products photography, it'll present your products in a professional way. It works well for showcasing your products neatly on a countertop, storefront, trade shows or home environment. If you need bulk order, we can offer discount, pls contact our customer service. And the head can put the ear, as it's foam material. This item is made of head mannequin for masks and head mannequin stand for wigs, head mannequin for hats, wig stand, wig head stand, wig head with stand for making wigs, headbands for women, fully pinnable head, dress form mannequin, head with hair, head mannequin with golden base, maniquins head, mannequin head stand.