Mannequin Dress Form, Pinnable Child Mannequin With Stand, French Vintage Seamstress Mannequin Dress Makers Form, Found And Flogged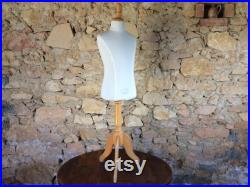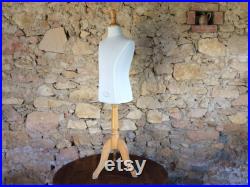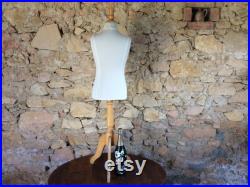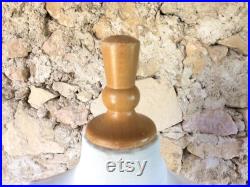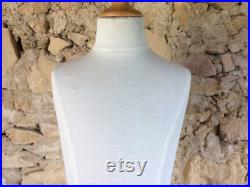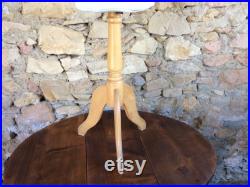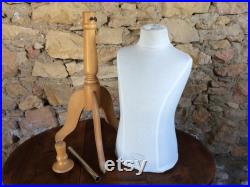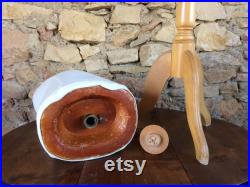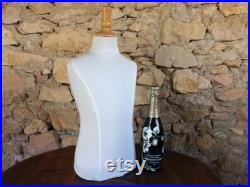 Mannequin dress form, pinnable child mannequin with stand, found and flogged in france. Good quality small mannequin, made by vendome of paris around the 1980's. It has an attractive golden brown wood stand, and the torso is made from pretty firm molded foam. It has a fabric cover which is a good fit, it slips on and off the torso for easy cleaning.
The top of it tucks in under the wooden top on the neck for neatness. The body is pinnable and the woodwork is worm-free. As well as usable, it is suitable for a stand alone decorator piece, a shop display, a or a sensibly priced base for a customizing project such as decoupage or a lamp conversion.
Size - adjustable height between around 44 and 50 inches - torso length to top of neck 19.5 inches, chest is 26.5 inches, bottom circumference is 28 inches (1 inch 2.5 centimeters). Condition: a little age appropriate wear to the woodwork and a little of the top of the neck is lost, all this is easily seen in the photos. Also, when we bought it there was a split in the stand's upright from where someone had over-tightened the height adjusting screw.
We've fixed it with some very strong wood glue, it hardly notices now and the stand is perfectly fit for purpose. Total weight - 2.3 kilos (just over 5 pounds). To see our current selection of mannequins and dress forms please use the link below.
Thanks for visiting "found and flogged, " feel free to enjoy browsing other items in our store. This item is made of molded foam and wood, fabric, metal.