Mannequin, Dress Form, Wrought Iron, Hand Decorated, Victorian, Large, 33 Inch, Jeweled Crown, Crystals, Art Decor ( 3) K5-4-4-24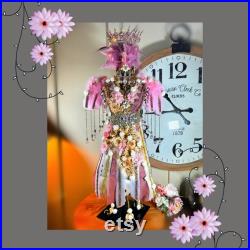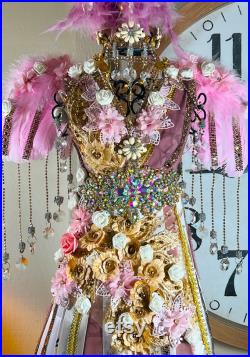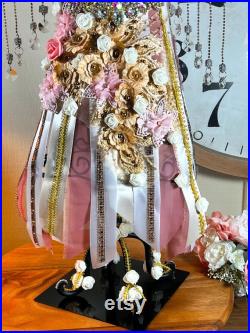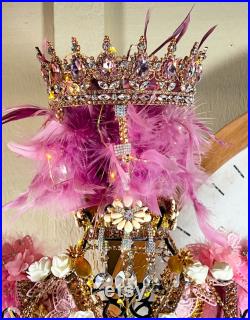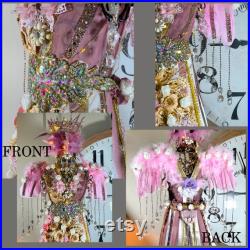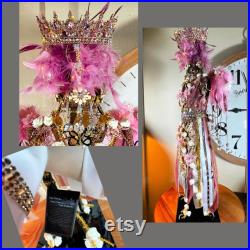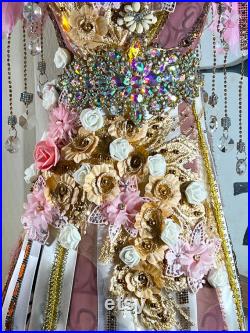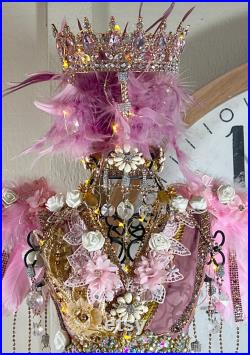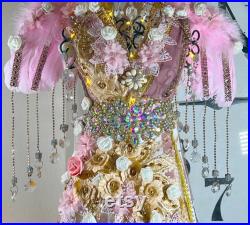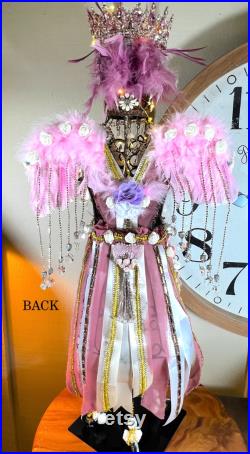 Mannequin, dress form, wrought iron, hand decorated, victorian, large, 33 inch, jeweled crown, crystals, art decor (#3) k5-4-4-24. This metal custom made hand decorated dress form has a victorian look to it and gives that touch of romance.
Measures, m 33" x 14" x 8. This piece could be set on the floor to display or on a dresser or table.
This is a substantial piece that you will love. The metal is black wrought iron and is elegantly decorated with chain faceted glass crystals on the skirt and a faceted chandler glass crystal hanging in the center of the chest area.
The crystals sparkle and twinkle with any movement but especially when light hits them. A beautiful metal jeweled gold ornate crown detailed with rhinestones rests at the top of this piece on a bed of marabou feathers. Also decorated with roses, pearls, crystals and romantic feathers. It's again a substantial piece that's made from metal with pearls and iridescent rhinestones for a royal touch.
At this moment i have several of these pieces in different sizes. Each one is different and so beautiful tis is the largest piece. I had fun decorating these.
Not only are the dress forms vintage but most of the materials i used to decorate them with are too. Romantic, elegant, fun & whimsical what could be more perfect. Please look through all the pictures to get a better idea of condition. Please note: vintage items, by nature, are likely to carry various marks and indications of their age, and while i make every effort to photograph my items in such a way as to show all features and characteristics as clearly as possible. Therefore, slight colour variations may appear, and some imperfections may vary.
As with all vintage and pre-owned items, there may be signs of use and wear that i feel ads to the character. It makes me wonder who used it and what has it endured. I clean each item but do not deep clean items and as such will probably need to be cleaned before use or display.
If you have any questions, please be sure to contact me before purchasing. I'm always adding new items to my store. New items are added daily.
Put me in your favorites and check back often. Thank you for visitingplease note. This item is made of metal and fabric.