Mannequin Head Female Wig Display Heads from VaudevilleMannequins.com Charlotte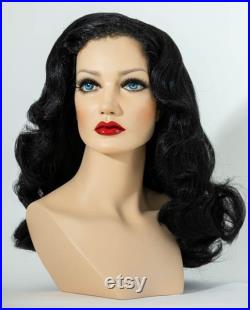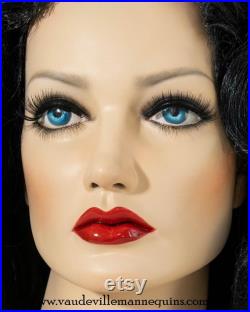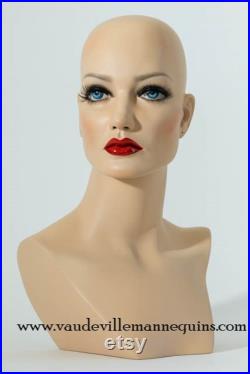 Charlotte is a head-turner, with her pale skintone, smoky eyes, and fem fatale lipstick. A mannequin head designed specifically for the sales of lace front and other wigs, charlotte displays wigs beautifully. Like all of our products, this head is made by hand. The lower part of the form is fiberglass, the head is carefully cast resin that presents the beautiful details crisply.
Her ears are pierced for earrings; the face is meticulously done in a combination of oil paint and airbrushing by one of our two artists here at the factory in los angeles. The most common comment we get, once the first order arrives, is: "oh my gosh, this is prettier than the photos showed it as". The second comment is usually i want to order some more of these. Whatever wig i show on it sells. This is a beautiful caucasian style head.
These are made of heavy fiberglass, with beautifully cast resin heads. They're pretty much made the way that we have always made them, since about 1946. We have been making the best quality mannequins since just after world war ii.
By now, we're pretty darned good at it. We think you'll be very, very pleased with our workmanship. Please note: these are only offered for sale to the us and canada.
This item is made of fiberglass and resin.