Mannequin Torso Black Cotton Maniquin Vintage Style Dress Form Jewelry bust display Torso paper mashe Tailor Dummy Jewelry Holder Organizer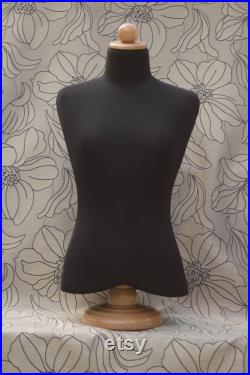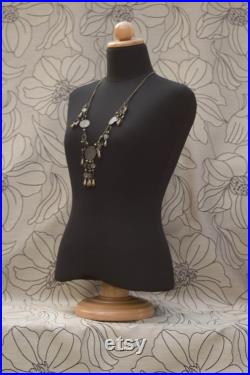 Hand made black cotton/ elastin completely pin-able mannequin bust torso dress form paper mache with a wooden disk and a wooden base stand for tailors or stores. Very fashionable, with a unique design that you can use in your store or like a decorative item in your home beauty cabinet. Suitable for every type of tailor materials. 90/70/94 cm or 35.5/27.5/37 inch inch. Mannequin height : 80 cm or 31.
Mid shoulder to mid shoulder: 37 cm or 14.5. Waist: 70 cm or 27.5.
Chest: 90 cm or 35.5. Wooden stand height 15 cm or 5.9. Total height with stand: 78 cm or 30.7.
Weight: 5 kg or 11 lbs. All our products are made from natural materials and are eco-friendly and can be recycled. Note: the fabric and/or wood that is used on this product might not 100% represent for what you see on the image. This may be due to the quality of your screen, the various fabric/wood providers, and the angle/lighting in the images. This applies especially for items that have a design that cannot be replicated 100% all the time due to its unique pattern/color.
This item is made of cotton and elastin, paper mache, wood, pin able. The style is high fashion and avant garde.