Mini Half Scale Professional Pinnable Female Dress Form (Great for Students )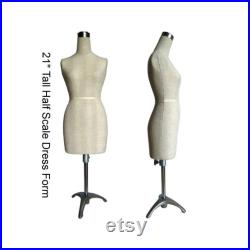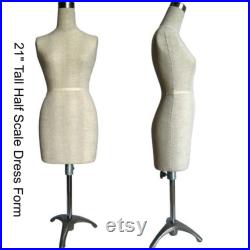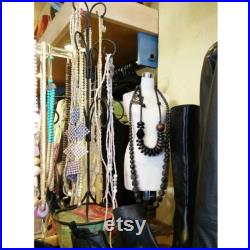 This half-scale dress form (scaled down to 50% of a full-size form) is a unique technical tool designed for schools, colleges, universities, students, pattern makers, costume designers, and anyone who is looking to accurately create patterns on a small scale. This 21 tall half-scale dress form has a pinnable surface with bumped-out side seams based on standard size measurements, enabling you to feel them when draping with fabric.
Has an easy-to-pin body, where pins can be used just about anywhere on the body. The body is firm enough to keep its shape yet soft enough to have some natural give.
Excellent for art students practicing draping design and is much more affordable for the budget conscience when compared to a wolf dress form or royal form. Includes a portable metal base for stability and is height adjustable along the pole. Has a 2-point locking system along the pole, allowing the form to either lock onto the pole or swivel around the pole when draping.
The base is easy to assemble and disassemble, making it a great tool to take to class or on the go. Also great as a jewelry display stand when it's not being used. This is a mini form, where the scale is 1:2, or half the size of a full-size form.
Height adjustable from 21" to 29". 16.5" chest, 13" waist, 17.5 hip. Waist to bottom: 7.5. The clothing size is an approximate size 6 (half scale) but can vary amongst the different clothing brands.