Rare little tailor's doll- Schneiderbust-little Mannequin-Model-with needle-cushion-embroidered tulle tip bds.-France around 1900-Couturier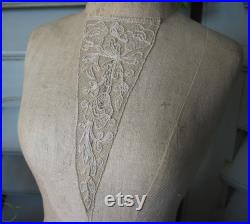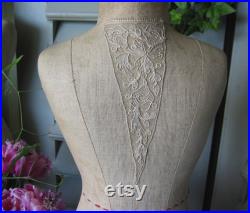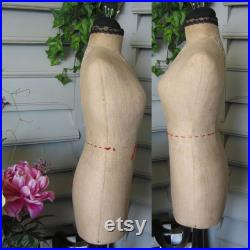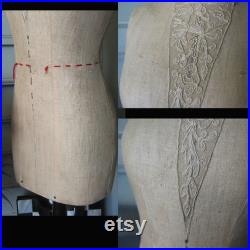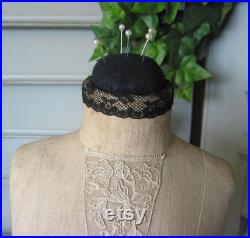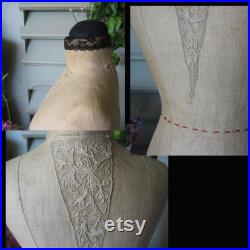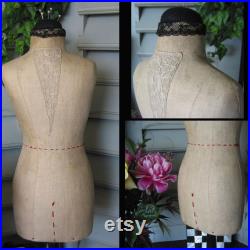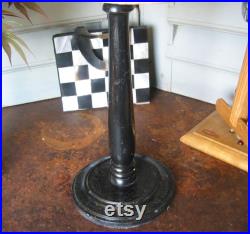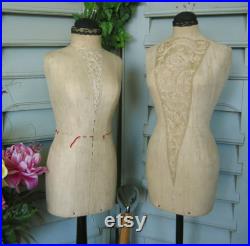 Tailor's doll - tailor's bust - mannequin - little mannequin - table bust. With pin cushion and black tulle tip and a beige tulle tip insert bds. With art nouveau - tulle embroidery. This type of tailor's doll is particularly suitable as a decoration for e.
The shop window or for the couturier as a miniature model. But also perfect as a toy for the doll's house. The hobby tailor will have her pleasure because the needle cushion is there and the search for the needles stops.
The tailor's doll was covered with fine linen, the tulle tip insert was probably sewn on later. Also the collar end with black tulle tip. These are original old lace from the time. Very nice the design of the lace insert with flowers on leaf vines, typical from the art nouveau period, which was mounted both front and rear.
The pin cushion is covered with black felt and there are 5 pins with silver/white-colored head in it. The wooden base was subsequently lactated black. There is another similar tailor's doll in my offerings, both of which probably come from a household or a collection.
Shoulder width 5.5 cm. Wooden body and wooden foot. Tulle tip embroidered with linen thread. Needle cushion covered with felt. Traces of use and storage (see photos).
The uncleaned state of the find is shown and offered. The photos shown are original photographs of the goods for sale, they are part of the offer and show the current condition. The decoration is not part of the offer. Australia is currently not possible. This item is made of feines leinen and tüllspitze, bestickter tüllspitzeneinsatz, filz, 5 alte stecknadeln, holzfuß, holzkorpus, 6 nägel.