Realistic Face Fiberglass Adult Female Mannequin Head with Detailed Face Make Up (2 pack) PH17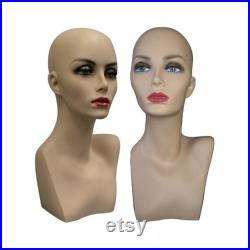 Realistic face fiberglass adult female mannequin head with detailed face make up (2 pack) #ph17. Detailed face make up with realistic facial features. Sits well on counter tops, shelves, and tables. Great for displaying women's jewelry, scarves, hats, and accessories. Clothing and accessories are not included.
This item is made of fiberglass.