RESERVED for Will Do NOT Purchase FINAL Layaway Payment Vintage Mannequin Decter Head Torso for Hat Wig Jewelry Lingerie E-Commerce Photos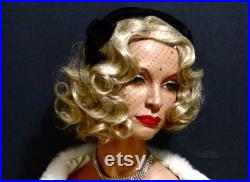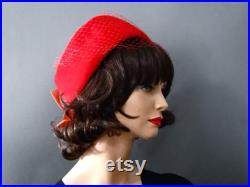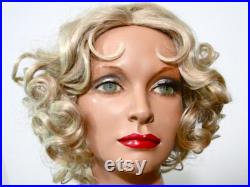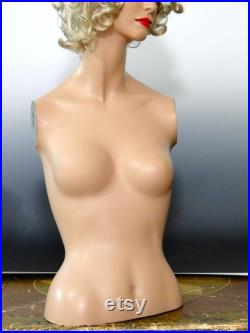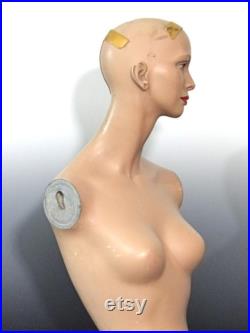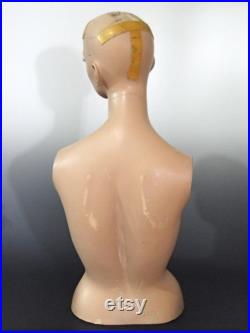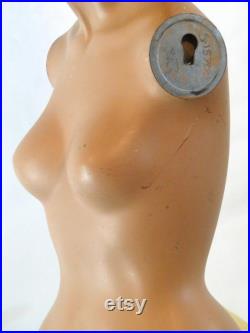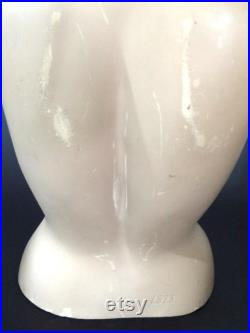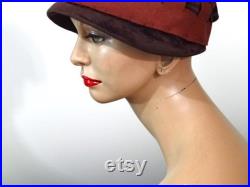 Torso and head only without arms and legs. $150.00 paid on december 9th, 2020. Wow is she gorgeous or what i've had the vintage 1940's glamorous mannequin for 8 years; i've used her for display in my brick and mortar booth, plus, used her for e-commerce and etsy display.
She looks fabulous in wigs, hats, fur capes, blouses, jewelry, vintage bras and lingerie. She is a full size mannequin but missing her arms legs and buttocks. I have, in the past, used arms on her borrowed from my other vintage mannequins but have never had her original arms. She has many blemishes that are easily covered with wigs and clothing. A list of her blemishes include one missing eyelash on right eye; a crack down the side of her neck, a hole (2 inches x 2 inches) on the crown of her head that is covered by wig or hat; right ear has a chip off the top, tiny paint chip on tip of nose that is covered by cosmetics; one tiny chip in her lip paint in the middle of the top lip; some surface paint scratches on her back side. She has numbers on her head and bottom of backside that read, ld23.
" her metal arm sockets have the numbers (i think) "s1570. " after research and some help from a customer, i've learned that the mannequin is probably made by the historical "decter. Decter began making mannequins in the 1920's in california. The decter company is known for making heavy high quality mannequins and are favorites within the vintage mannequin collectors.
I'm still unsure of her age, but she definitely looks and feels like an older vintage mannequin. I love her in the old hollywood blonde wig, but she looks great in red, blonde, and brunette wigs. The wigs are not included in the listing.
The mannequin torso/head weighs almost 7 pounds, very substantial and not light weight like the new mannequins. Also, offers will be considered. Important: i could've mistakenly missed one of her blemishes; therefore, please read details carefully and send me your questions. Plus, i have tons of photos that you may see upon request. The following are her measurements.
She is 29 inches tall. Her bust measures 34 inches. Her waist measures 23 inches.
Her base measures 12 inches wide x 8 inches deep; the mannequin is balanced and is able to sit alone on a tabletop, but i always place something around her to keep her safe. I measured 21 inches around her head which is the perfect size for hats and wigs. This item is made of composite.