SOFIA Soft foam anatomic tailor dress form Collapsible shoulder dummy Pinnable half leg tailor mannequin Perfect for lingerie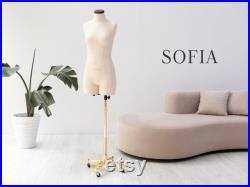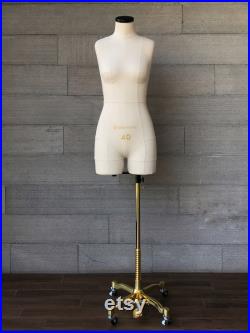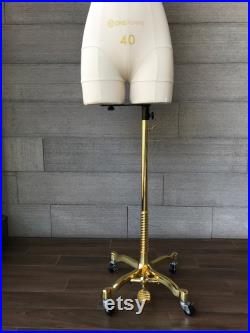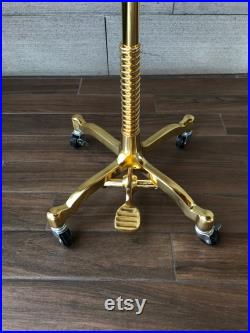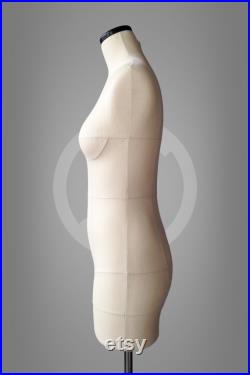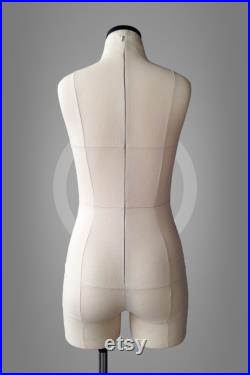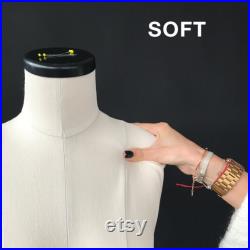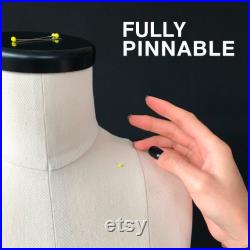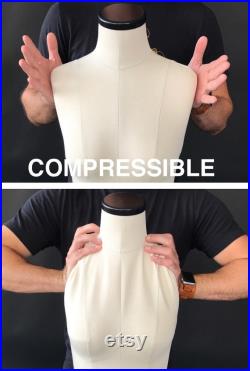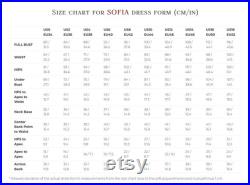 Sofia - professional tailor dress form for fashion design. Universal tool suitable for design of all types of garments: from lingerie to wedding gowns. The mannequin is made from soft polymer material (polyurethane), with no hard frame/core inside.
It is 100% pinnable (pins can go inside for their whole length). It is heat and water resistant (iron and steam right on it) and has compressible shoulders (put a fitted garment on the dress form easily). Additional accessories (stand, arms, head) available. 100% cotton cover with professional construction lines - cover is made from pure cotton fabric in natural color. It can be easily removed (for dry cleaning purposes or replacement for example) and then put back on the mannequin. The cover has professional tailor construction lines and it's extremely durable.
Polyurethane core - dress form is made entirely of polyurethane. This makes it ideal for pattern making, draping an pinning technique. Polyurethane is a safe modern poly material also used to produce children's toys, mattresses, sleeping cushions, etc. Compressible - the dress form is relatively soft, so you can compress it's shoulders to put a fitted garment on and narrow it's waist while trying a laced corset.
Multipurpose - this sewing torso can also be used to display clothes and take photos of your designs' fabulous fit. Anatomic - our dress forms are accurately shaped and proportioned according to physical characteristics derived from relevant modern consumer data. Durable - you can steam and iron right on the dress form. All materials tolerate high temperature and water perfectly.
Steady - in this listing the dress form is shown with the metal stand and rotation retainer. It is very convenient to use for draping as well as for displaying your work. It allows for the torso height to be adjusted. Handy - a magnet pin holder built into mannequin's neck cap, construction lines, stand with wheels with stoppers and foot pedal, rotation and height adjustment tool: sofia's got everything a professional designer and tailor needs for comfortable and efficient work. About the dress form stand. Not only it will prevent sofia from rotation on the stand pole, but will also guard it from tilting. It has wheels with stoppers and rotation retainer described above. The pedal is used as a temporary foot brake that keeps the dress form still while you're working on it.
The height of the dress form is adjusted manually by extending or shortening the telescopic stand pole. Dress form stand is available in 2 colors: bright gold and matte black. (detailed size chart is available in listing photo gallery).
Size 0 // eur 34. Bust 31.5 in // 80 cm. Waist 25.2 in // 64 cm.
Hips 35.8 in // 91 cm. Size 2 // eur 36.
Bust 33 in // 84 cm. Waist 26.4 in // 67 cm. Hips 36.6 in // 93 cm. Size 4 // eur 38.
Bust 34.6 in // 88 cm. Waist 27.9 in // 71 cm. Hips 37 in // 94 cm.
Size 6 // eur 40. Bust 35.8 in // 91 cm. Waist 29.5 in // 75 cm. Hips 38.6 in // 98 cm. Size 8 // eur 42.
Bust 37.8 in // 96 cm. Waist 31.5 in // 80 cm. Hips 40.1 in // 102 cm. Size 10 // eur 44. Bust 39.4 in // 100 cm.
Waist 32.6 in // 83 cm. Hips 41.7 in // 106 cm.
Size 12 // eur 46. Bust 41.0 in // 104 cm. Waist 34.6 in // 88 cm. Hips 43.7 in // 111 cm. Size 14 // eur 48. Bust 42.5 in // 108 cm. Waist 36.6 in // 93 cm. Hips 46.1 in // 117 cm. Size 16 // eur 50. Bust 44.0 in // 112 cm. Waist 38.6 in // 98 cm. Hips 48.4 in // 123 cm. Size 18 // eur 52. Bust 45.6 in // 116 cm. Waist 41.3 in // 105 cm. Hips 51.1 in // 130 cm. Allowed deviation of the actual dress form's measurements from the size chart above (due to soft nature of the polyurethane core) is plus/minus one centimeter. This item is made of polyurethane and cotton.