Tailor doll multi-adjustable, with back length adjustment, lady valet with accessories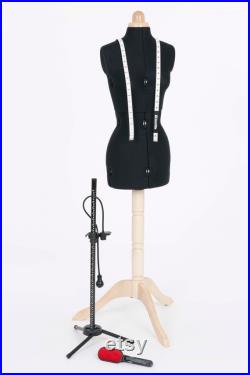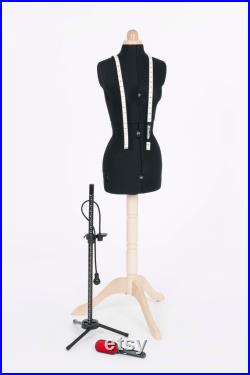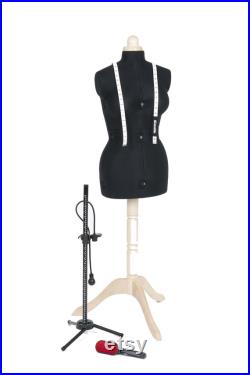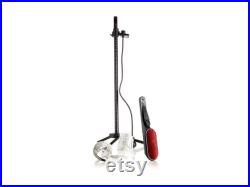 Lady valet with accessories, adjustable tailor doll with decorative wooden stand. (accessories: clothes brush + skirt rounder + tape measure).
Lady valet with accessories, adjustable tailor bust is adjustable in three levels. This tailor bust is also equipped with the important possibility to adjust the back length.
This tailor bust lady valet not only fulfills functionality, but is also a particularly decorative element for your sewing room with this adjustable tailor bust you have the perfect gift, after all, you give additional and practical accessories. Or give yourself a present with this practical tailor doll + accessories. This special tailor doll is particularly stable due to its turned, wooden tripod stand and therefore also particularly decorative.
The lady valet with accessories is available in the cover color black and a light wooden stand, in any case the listed accessories are included. The lady valet is available with accessories in sizes s or m. It is size-adjustable, length-adjustable by back length adjustment and height-adjustable. Complete with turned tripod wooden stand in the color birch and accessories. Measurement table of lady valet with accessories.
Waist circumference 61 81 cm. Hip circumference 86 106 cm. M chest 99 119 cm.
Waist circumference 73 94 cm. Hip circumference 102 122 cm. Information about the clothes brush.
Practical clothes brush, in addition, the stroke direction can be changed by 180 degrees with a slight push of a button. Size of the clothes brush in total about 25 cm, lint area about 11 cm. Quick and equally easy assembly and dismantling.
Additionally secure stand due to the tripod stand. The skirt rounder is therefore easy to fold. The movable chalk container can be infinitely adjusted. Chalk powder weighing 25 gr. A slight pressure on the rubber ball results in a clearly marked hem edge on skirts, dresses, jackets and coats.
The infinitely adjustable rock rounder is an auxiliary device, which should also not be missing in any hobby tailoring workshop. It is also easier to set the hem length of your garment evenly with this skirt rounder. In short, your tailoring work will succeed even more perfectly. Information about the tape measure. Practical tape measure, which is delivered in a small can.
This tape measure makes it easier for you to measure the circumferential dimensions and also the length dimensions on your tailor doll. The length of the tape measure is 150 cm and is also printed on both sides. One side with cm, the back with inch indications. This tape measure was made in germany. Color white also black printed scale.
Product description lady valet with wooden stand and accessories (clothes brush, skirt rounder, tape measure). Chest circumference 4 adjustment wheels. Waist circumference 4 adjustment wheels. Hip circumference 4 adjustable wheels.
All adjustment wheels can also be set independently of each other. Upper 100% nylon, color black. Clothing size 36-42 (size s).
Clothing size 42-48 (size m). Cover color black, definitely good for inserting the needles. Wooden stand, three-point stand, colour birch. The back length (waist length) is also adjustable.
Clothes brush with reversible possibility. Tape measure packed in a small practical can. Skirt rounder with tripod stand.
Including small atomizer can + approx.