Tailor doll multiple adjustable, with trouser base and back length adjustment, Olivia size XS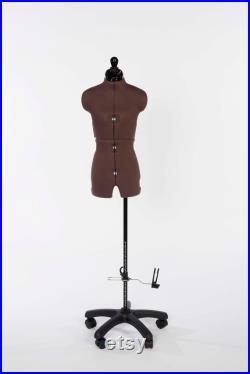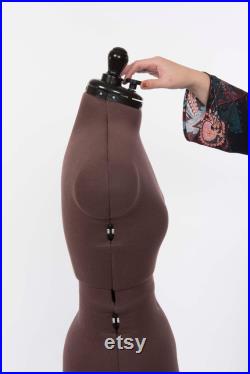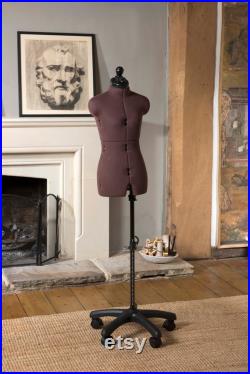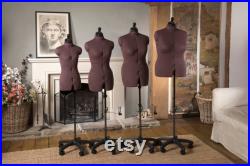 Tailor doll with trouser attachment olivia. This adjustable tailor doll can be used as a tailor's bust with attached legs or also as a normal tailor's bust. Tailor doll with trouser attachment olivia is adjustable and has several applications, it can be positioned, for example, in the middle or side of the roller stand. This tailor's doll also has a needle marker. This is placed on the middle bar of the stand and can therefore turn slightly over it to facilitate the preliminary lengthing of clothes on the bust.
This tailor bust is also provided with a felt-like flocking, which allows easy insertion of the needles. Set on the side, trousers can be put on at this tailor's bust, and in addition, placed in the middle of the five-point position, this bust acts as a normal tailor's bust. Due to its felt-like flocking, this tailor bust makes it easy to attach cut parts and finished sewing objects. In short, a very practical tailor doll, available in the size extra-small. Product description schneiderpuppe with trouser attachment olivia.
Size adjustable in three planes as circumference, each in all four cardinal directions. Consisting of 8 elements (back length can be adjusted). Chest circumference 4 adjustable wheel. Waist circumference 4 adjustable wheel. Hip circumference 4 adjustment wheel.
All adjustment wheels can also be adjusted independently of each other. Clothing size 32-36 (size xs). Roller stand, with 5 rollers, by the way all with locking function. Rollers can be optionally and easily attached to the stand. The back length (waist length) is also adjustable.
At the upper end, the adjustment knob is also easily accessible for adjusting the back length (waist length). Cover colour brown, complete with five-point stand with five rolls for determining. Also the tailor doll olivia is easily transportable, whether for sewing course or sewing meeting, this tailor doll with its low weight and light construction is always ready for use everywhere.
In short, a special tailor's doll with many adjustment options and functions. Dimensions olivia-adjustable tailor doll with trouser base+roll stand with five locking rollers.