The Gilded Griffin 1920s AUTHENTIC Vintage Millinery Bust Mannequin Display Plaster Composite Mannequin Head circa 1929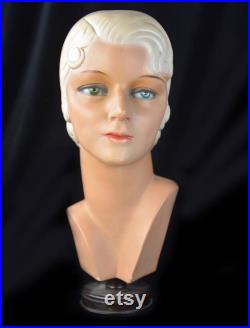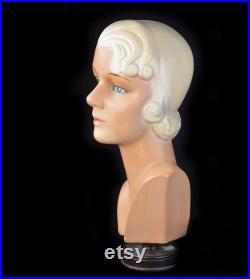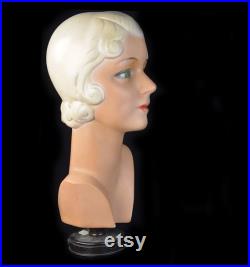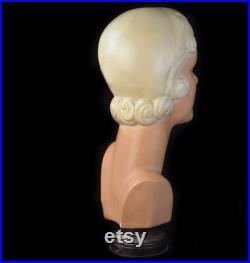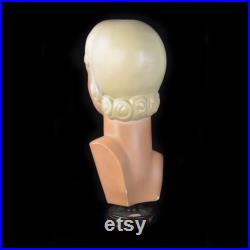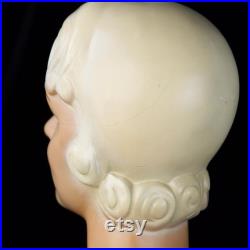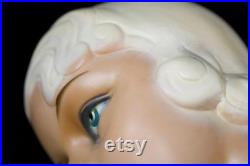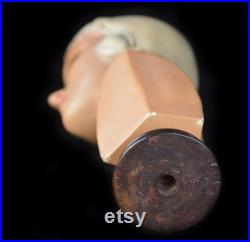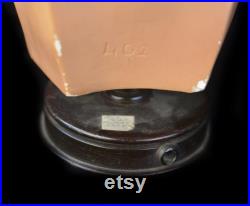 This exceptionally rare, beautifully hand-painted, mannequin millinery head was used for a hat shop or department store hat display sometime during the late 1920s through to about 1933. This mannequin head has never been on the market before. It was originally a gift to a milliner who worked at an exclusive hat shop in a midwestern department store near detroit, and then handed down to her friend who later became an antiques dealer. The mannequin was used in a display case for several decades when it finally returned to the owner's home, where it was acquired for my personal collection for use in an upcoming book.
The head is hand-cast in a heavy plaster/mineral composite and beautifully hand-painted with a hairstyle which was considered the chicest of the time, platinum blonde. She has pencil thin eyebrows, spit curls, and a glowing suntan which characterized the look that represented the ideal woman of the time; dated to about 1929 through early 1930s. This millinery mannequin would have been used to display expensive hats such as those snug cloche styles that were coveted in paris and new york. The mannequin head is mounted onto a heavy, carved mahogany base which still features the screw hole where the stand was mounted when exhibited in window or countertop displays. The head is in excellent condition overall, with exquisite design and paintwork. The stand is very sturdy and original to the head. There are only a few minor chips on the plaster as seen in the attached photographs. The head, however, has a hairline crack across part of the face and into the back of the head. This is not immediately noticeable, but only on close inspection. Again, this head has been in my personal collection for many years and the crack has not changed. However, the new owner may wish to have a conservator stabilize the crack since these heads of this fine quality, otherwise, are so rare of a find. A conservator's professional work in stabilizing this issue should only add to the value of this beautiful mannequin head over time. It measures to fit about 21.5 inches or 54.61 cm hat size and is 17.5 inches or 44.45 cm tall. My references include museums, celebrities, and wonderful private collectors. Do not hesitate to inquire for assistance with sizing or any other questions that you may have all photographs copyright 2018-2019 jhenri. This item is made of plaster and plaster mineral composite.