Vintage dress form mannequin display, tabletop vintage girl centerpiece, dress form, mannequin tree centerpiece, mannequin decorated.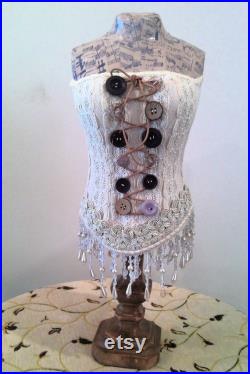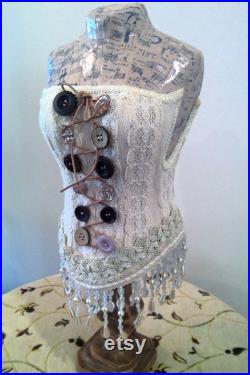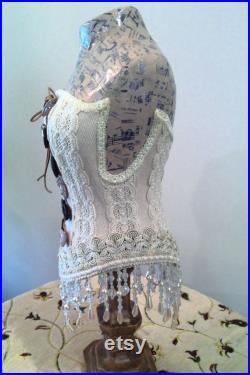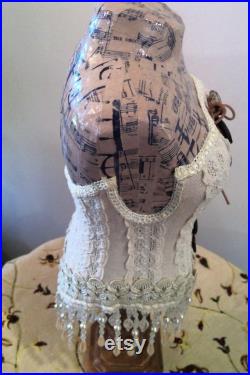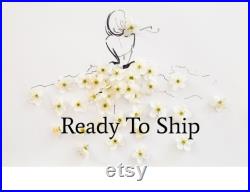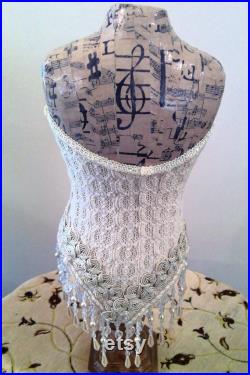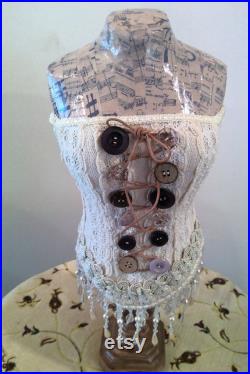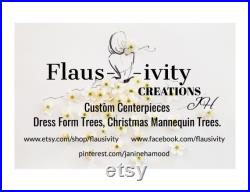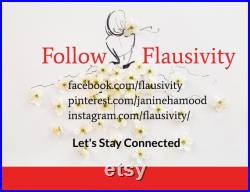 This wonderful handmade hand structured paper mache vintage dress form is eye catching by the natural hues of browns and beiges. The bustier is comprised of decoupage papers that are scripted with musical notes, ideal for a music enthusiast. It is topped with buttons, lace to trim the dress form bustier. It has a vintage shabby chic vibe décor, christmas centerpiece, bedroom décor, mantle décor, tabletop décor. This vintage mannequin is trimmed with crystals and pearls, gatsby fashion.
Inspiration was to create a dress form that is shabby chic and has a vintage feel. Diva mannequin centerpiece table top measures 7" wide x 16" height. All works are varnished for perseverance of color.
My dress form décor begins with a child's tabletop dress form cast that is paper mache and plastered. I have carefully sourced materials to give her the wow factor. Always available to answer your questions. Handmade dress form centerpieces and mannequins truly make a statement for that special occasion, decorative display for your home décor. If you would like to learn more about me & my journey, please visit my about page. Custom creations will take to 2-3 weeks for completion. I will do my very best to recreate the dress form listed in the photo.
There could be a possibility that the materials will be substituted but will be replaced with similar colors, textures, due to their availability but will do my very best to source and use the same materials. Bring my work into your home or business, from south florida, .
This item is made of paper mache and vintage, shabby chic.