Vintage Full Size Plaster Child Mannequin with Posable Arms Child Size Store Mannequin with Weighted Stand Keyhole Arms Glass Eyes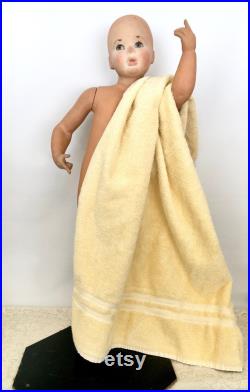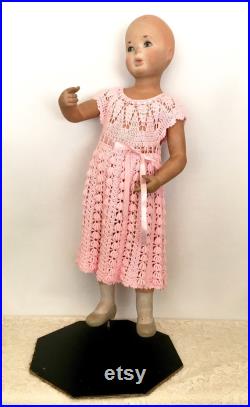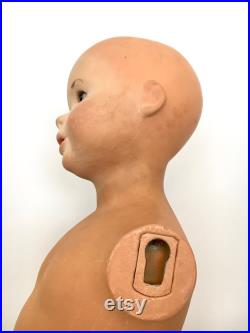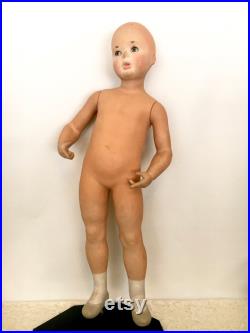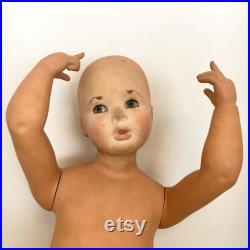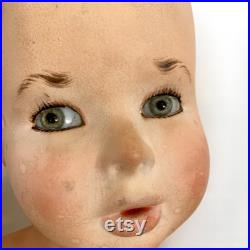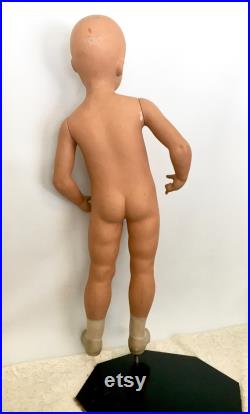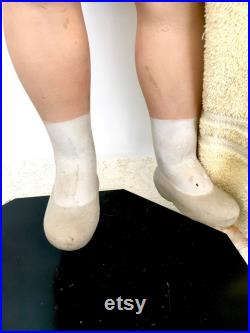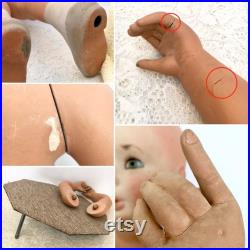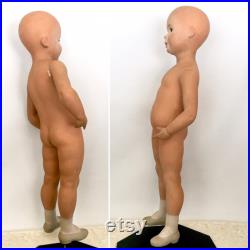 This original child store display mannequin would be right at home in a vintage clothing shop or, in your sewing room. She/he is made of hard plaster over a molded composite material (perhaps fibreglass).
She/he features a sweet hand painted face, beautiful grey/green glass eyes and posable arms. Overall, she/he is in excellent condition. Oh sure - the mannequin does show some flaws but, these only make her/him more endearing. There small cracks/crazing in the plaster here and there, a split to one pinky finger, a bit of missing plaster near her left earlobe, in the crotch and at the back of her right shoulder. She could also use a bit of careful cleaning.
Her arms can be removed which helps in getting her dressed. She does come with the stand but, it is heavy (7.77 lbs on it's own) and he/she can stand on her/his own (albeit, tenuously). She/he wears about a us size 2. Shoulder to shoulder - 7 1/2. Arms (shoulder to finger tips) - 14 1/2. Legs (inseam) - 14 1/2. Weight with stand - 13.82 lbs. This is a large and heavy approx.
Note: the hand crocheted dress shown is elsewhere in our shop. If it is still available, and if you would like it, let me know. Often, we can secure better pricing through our own suppliers. Any questions please ask or, read our shop policies. This item is made of fibreglass and composite, plaster, metal, glass.