Vintage Mannequin Head Bust hat store display, plaster, 84, 1940s, light hair, brown eyes, French collectible, young woman, lady, form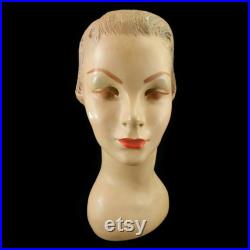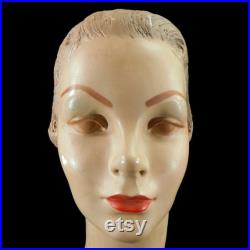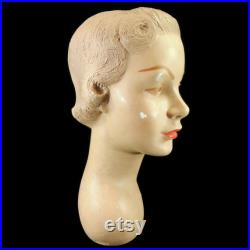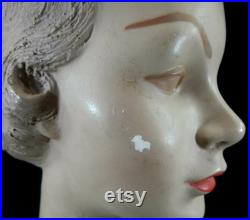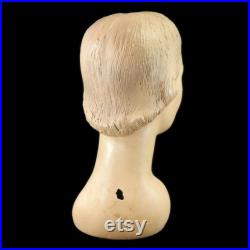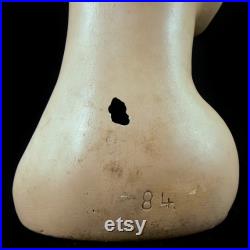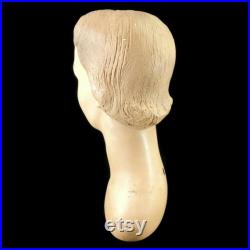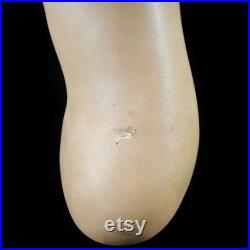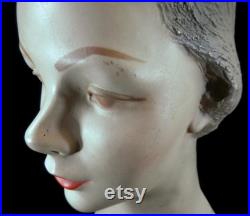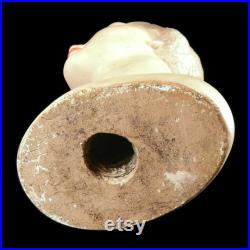 This listing is for a vintage mannequin head bust. We believe that this piece may be french, it is only marked 84. Based on her style, we believe she is probably from around the 1940s or so. We think that he mannequin bust is made out of plaster and/or composite. She has light hair and brown eyes.
The lovely statue measures approximately 6-3/4 inches by 7 inches by 14-3/8 inches tall. The mannequin is in good vintage condition, however there are a few chips and a hole, as shown in the photos. There are spots of paint loss or wear, as well as flaws in the glazing.
It would benefit from a deeper cleaning, but we leave that to the new owner. We just did a quick wipe down of the piece.
Please be sure to see all photos for details. -------------------------- xxx --------------------------- xxx -------------------------. Please be aware that all our items are used vintage and over 20 years old, thus the condition and functionality of those items are as is. In addition, please be aware that these items may or may not meet the safety standards of today. They have all been well loved.
And frankly, sometimes they show it we clean where we can, but do not want to ruin any of the natural patina, so it is just a basic, quick once-over. We test the functionality of our items & note issues that we find. However, we are not experts in any of these items, so we may overlook something.
We take great care to note condition issues, as well as including them in the detail photos. Our photos represent the items as best as we can, but realize there may be subtle differences between digital photos and the actual items. If you have any questions, please do not hesitate to convo us.
We would be happy to answer any questions or send any additional photos that you request. Who is rust2retro right now we are three. A mother (linda) & 2 daughters (melissa & sara).
But we also have other family members help us out from time to time. And sometimes they add a piece or two to the shop, as well. Linda is a retired high school math teacher who is now learning the fine art of taking fabulous etsy-ready photos. He was a collector of beautiful victorian glass that instilled a love of all things vintage and antique in each of us.
Thanks for visiting our shop. This item is made of plaster and composite. The style is retro and kitsch.