Vintage Mannequin, Tween Size, Store Fixture Circa Early 20th Century, Carved Wood and Composition, Linen Covering, Jointed Arm, Pin-Curl Wig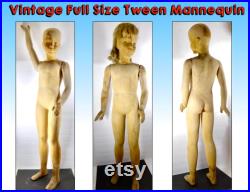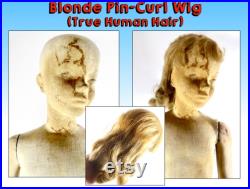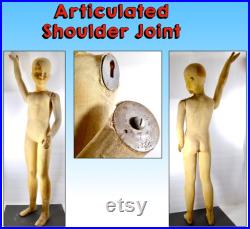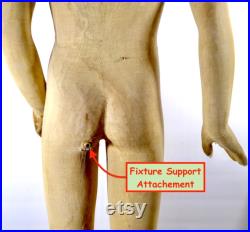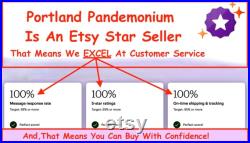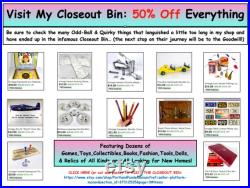 Here is a very nice vintage mannequin store fixture from the early 20th century, circa 1920-30's. Nicely proportioned "tween" size; 49" tall, 24" breast, 21" waist, 22" hips. The construction is a combination of carved wood and composition material (most likely plaster) on a wood scaffolding.
The left buttock has a fixture stand receptacle. The arms are connected at the shoulders with articulated metal plates for posing. Outfitted with a human hair wig in shoulder length blonde pin-curls, but will model as either male or female. Note: this item is distressed as follows: the linen covering has what appear to be water stains, most noticeably on the face. The fabric has some slight fraying at the neck, shoulders, and feet.
The finger tips on one hand have been damaged. There is a general overall fading of the linen. I absolutely guarantee that this mannequin will arrive at your home safely, insured, tracked, and on time, if not earlier. This item is made of carved wood and linen, plaster, pin curl hair.