Wasp Waist Mannequin Velvet Torso Vintage French Style Dress Form Jewelry bust display Torso paper mashe Tailor Dummy Table Top pinable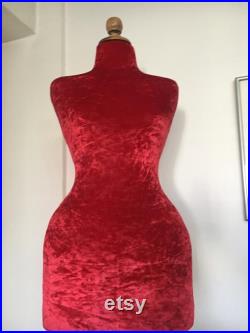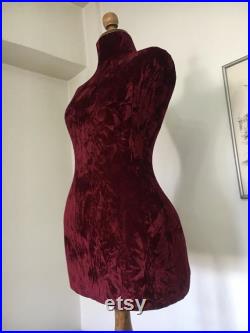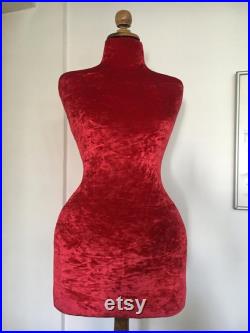 Hand made crushed velvet wasp waist vintage french style torso table top. Mannequin bust torso dress form paper mache with a wooden disk and a wooden base stand for tailors or stores. Very fashionable, with a unique design that you can use in your store or like a decorative item in your home beauty cabinet. Suitable for every type of tailor materials. You can choose the color of the wooden top disk from black, light brow and dark brown. Mannequin:84/60/100 cm or 33/24/39 inch. Mannequin height : 74 cm or 29. Mid shoulder to mid shoulder: 37 cm or 14.5.
Waist: 80 cm or 32. Chest: 84 cm or 33. Total height with stand: 80 cm or 32. Weight: 3,5 kg or 8lb.
Sub type: wasp waist mannequin top table. All our products are made from natural materials and are eco-friendly and can be recycled. Note: the fabric and/or wood that is used on this product might not 100% represent for what you see on the image.
This may be due to the quality of your screen, the various fabric/wood providers, and the angle/lighting in the images. This applies especially for items that have a design that cannot be replicated 100% all the time due to its unique pattern/color. This item is made of paper mache and wood, velvet, pinable, handmade, home decor, shop decor, shop equipment, clothes organizer, jewelry equipment, necklaces equipment, crushed velvet.
The style is avant garde and high fashion.