Wicker Three dimensional Dress Form of Small Woman's Model of the Torso or Fashion Display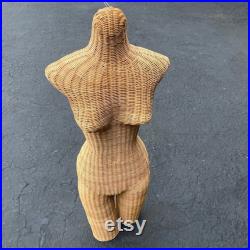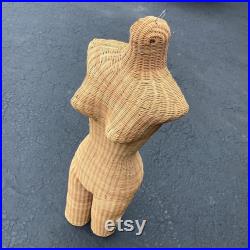 Wicker, three-dimensional dress form of small woman's model of the torso or fashion display. Good vintage condition with age appropriate wear without any broken strands, dents, scuffs or discoloration. It has a metal hook at top, ready to hang the dress form. Label attached on leg; made in hong kong. I'm not sure of age but would place it form the 1970s.
Size: approximately 41.5"h x 15"w at shoulders x 12"d 35" breasts x 22" waist x 33" hip measurements. Wikipedia: a dress form is a three-dimensional model of the torso used for fitting clothing that is being designed or sewed.
When making a piece of clothing, it can be put on the dress form so one can see the fit and drape of the garment as it would appear on a body, and make adjustments or alterations.