ZLATA Half scale soft sewing dress form with cotton cover and construction lines Fully pinnable dressform Tailor dummy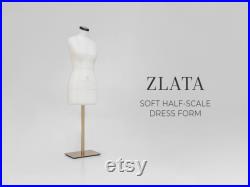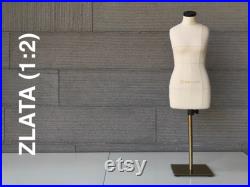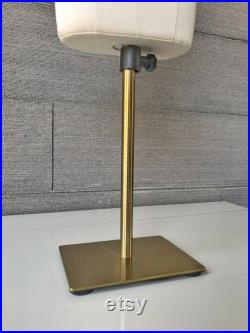 Zlata - professional half scale tailor dress form. Perfect for draping and constructing new designs - allows to save space, draft fabric and time. 100% pinnable, pins can go inside for their whole length. Mannequin strongly holds pins while draping.
100% cotton cover with professional construction lines - cover is made from pure cotton fabric. It can be easily removed (for dry cleaning purposes or replacement for example) and then put back on without any problems. The cover has professional tailor construction lines.
Polyurethane core - dress form is made of polyurethane. This makes it ideal for pattern making, draping an pinning technique. Polyurethane is a safe modern poly material also used to produce children's toys, mattresses, sleeping cushions, etc.
Multipurpose - this sewing torso can also be used to display clothes and take photos of your design. Anatomic - our dress forms are accurately shaped and proportioned according to physical characteristics derived from relevant consumer data. Durable - you can steam and iron right on the dress form. All materials tolerate high temperature and water perfectly.
Steady - platform stand is included. Available sizes: us sizes 2, 4 // eur sizes 36, 38. Half-scale size 2 // eur 36. Bust 16.5 in // 42 cm. Waist 13.2 in // 33.5 cm. Hips 18.3 in // 46.5 cm. Half-scale size 4 // eur 38. Bust 17.3 in // 44 cm. Waist 13.9 in // 35,5 cm. Hips 18.7 in // 47,5 cm. Allowed deviation of the actual dress form's measurements from the size chart above (due to soft nature of the polyurethane core) is plus/minus 0,5 cm. This item is made of polyurethane and cotton.